ANEURISMA VENOSO POPLITEU – RELATO DE 2 CASOS
Resumo
O aneurisma da veia popliteia (AVP) é uma entidada rara mas que comporta um risco importante de trombose venosa profunda (TVP) e consequente tromboembolismo pulmonar (TEP). Uma vez que a anticoagulação não é eficaz na prevenção dessas complicações, a cirurgia é o tratamento indicado pela quase totalidade dos autores. Apresentamos dois casos tratados no nosso serviço que ilustram o caráter pleomórfico desta doença – o primeiro manifestando-se como uma massa popliteia pouco sintomática e o segundo como um quadro semelhante a TVP numa doente cuja mãe falecera por TEP de causa não esclarecida. Ambos foram tratados pela técnica de aneurismectomia com venorrafia lateral, com bom resultado confirmado imagiologicamente ao fim de 6 meses. Fazemos ainda uma discussão com base na literatura. O AVP é uma entidade rara e de etiologia não esclarecida, cuja principal complicação é o TEP. O tratamento cirúrgico é a abordagem de eleição. A técnica cirúrgica utilizada de aneurismectomia com venorrafia lateral apresenta bons resultados e pode ser considerada curativa. Por esses motivos é uma doença a considerar no diagnóstico diferencial quer de massas popliteias quer de fenómenos tromboembólicos de repetição. 
Downloads
Dados de Download não estão ainda disponíveis.
Referências
1. Popliteal Vein Aneurysm as a Source of Pulmonary Embolism: Report of a Case and Review of the World Literature . Park, JS e al., et. 2011, Annals of Vascular Surgery , Vols. 25: 1139.e9-1139.e12.

2. Superficial Venous Aneurysms – casuistic, case reports and literature review. J. Neves, V. de Sousa, D. Cavadas, J. Cabete, A. Formiga. s.l. : Revista Portuguesa de Cirurgia, 2016, Vols. (39):15-23.

3. Popliteal vein aneurysm: a case report and review of the literature. Nasr W, Babbitt R, Eslami MH. 2007, Vascular and Endovascular Surgery, Vol. 41:551e5.

4. Popliteal Venous Aneurysm as a Cause of Recurrent Pulmonary Embolism. Tomko T, et al. 2013, Vascular and Endovascular Surgery, Vol. 47(2), pp. 155-158.

5. Venous Aneurysms – An Uncommon but Potentially Life-Threatening Disease: A Case Report. Papadimitriou D, et al. 2009, European Journal of Vascular and Endovascular Surgery, Vols. Extra 18, e53ee56.

6. Popliteal venous aneurysm – a systematic review. Bergqvist D, et al. 2006, World Journal of Surgery, Vol. 30(3), pp. 273-279.

7. Bilateral popliteal vein aneurysms. McDevitt DT, Lohr JM, Martin KD, et al. 1993, Ann Vasc Surg, Vol. 7, pp. 282–286.

8. Anéurysmes veineux poplités: expérience personelle. Maleti O, Lugli M, Collura M. 1997, Phlebologie, Vol. 50, pp. 53–59.

9. Management of symptomatic and asymptomatic popliteal venous aneurysms: a retrospective analysis of 25 patients and review of the literature. Sessa C, et al. 2000, Journal of Vascular Surgery, Vol. 32(5):902e12.

10. Venous aneurysms. Perrin, M. 2006, Phlebolymphology, Vol. 13, pp. 172-176.

11. Venous aneurysms: surgical indications and review of the literature. Calligaro KD, et al. 1995, Surgery, Vol. 117, pp. 1–6.

12. Venous aneurysms. Schatz IJ, Fine G. s.l. : N Engl J Med, 1962, Vol. 266:1310e2.

13. Aneurysma transformation in congenital venous angiodysplasias in lower extremities. Paes, EH e Vollmar, JF. 1990, International Angiology, Vols. 9(2):90-6.

14. Metalloproteinase expression in venous aneurysms. Irwin C, et al. 2008, Journal of Vascular Surgery, Vols. 48, Number 5, pp. 1278-1285.

15. Superior vena caval aneurysm. Varma PK, et al. s.l. : Interactive CardioVascular and Thoracic Surgery, 1 September 2003, Vols. Volume 2, Issue 3, Pages 331–333.

16. Visceral Venous Aneurysms: Clinical Presentation, Natural History and Their Management: A Systematic Review. G.S. Sfyroeras, G.A. Antoniou, A.A. Drakou, C. Karathanos, A.D. Giannoukas. s.l. : Eur J Vasc Endovasc Surg, 2009, Vols. 38, 498e505.

17. Aneurysma der Vena poplitea. May, R e Nissl, R. 1968, Fortschr Rontgenstr, Vol. 108, pp. 402-3.

18. The venous aneurysm. Schild, H, et al. 1992, Aktuelle Radiologie, Vol. 2:75e80.

19. Surgical Therapy of an Asymptomatic Popliteal Venous Aneurysm. Lutz, HJ e al., et. 2012, Annals of Vacular Surgery, Vol. 26: 729. e7e729.e9.

20. Popliteal Venous Aneurysms: Results of Surgical Treatment. al, Maldonado-Fernandez et. May de 2013, Annals of Vascular Surgery, Vols. Vol. 27, No. 4, pp. 501-509.

21. Popliteal venous aneurysms: characteristics, management strategies, and clinical outcomes – a modern single-center series. Donaldson CW, et al. 2014, Annals of Vascular Surgery, Vol. 28(8), pp. 1816-22.

22. Surgical Treatment of Popliteal Venous Aneurysms. Johnstone JK, et al. s.l. : Annals of Vascular Surgery, Vols. Vol. 29, No. 6, August 2015.

23. Fusiform aneurysms of the popliteal vein. Rubin BG, Beak BI, Reilly JM. 1995, The American Venous Forum, 7th Annual meeting, Vol. Abstract book, p. 39.

24. Asymptomatic popliteal vein aneurysms. Labropoulos N, et al. 1996, Vascular Surgery, Vol. 30, pp. 453–458.

25. Anéurysme veineux de la fosse poplitée: exploration ultrasonographique. Franco G, Nguyen Khac G. 1997, Phlebologie, Vol. 50, pp. 31–35.

26. Popliteal venous aneurysm: a rare cause of recurrent pulmonary emboli and limb swelling. Russel DA, Robinson GJ, Johnson BF. 2008, Cardiovascular and Interventional Radiology , Vol. 31:1026e9.

27. Popliteal Vein Aneurysms: The Diagnostic and Surgical Dilemma. RL, Flekser e W, Mohabbat. 2015, Vascular Disease Management, Vol. 12(2), pp. E26-E32.

28. Popliteal Vein Aneurysm With Recurrent Pulmonary Thromboemboli. Dahl, JR e al., et. 1976, JAMA, Vol. 236(22), pp. 2531-2532.

29. Posterior tibial vein aneurysm presenting as tarsal tunnel syndrome. Ayad M, Whisenhunt A, Hong E, Heller J, Salvatore D, Abai B, DiMuzio PJ. Jun de 2015, Vascular, Vol. 23(3), pp. 322-6.

30. Management of primary venous aneurysms. Ekim H, et al. s.l. : Saudi Med J., Vols. 2004 Mar;25(3):303-7.

31. Popliteal vein aneurysm presenting as recurrent pulmonary embolism. Joel Lim, Martin Marshall. s.l. : J Radiol Case Rep., 2015, Vols. Apr; 9(4):23-27.

32. A rare and potentially fatal cause of popliteal fossa swelling. Kelay A, Constantinou J, Hamilton H. 2014, BMJ Case Rep Published.

33. PREPIC Study Group. Eight-year follow-up of patients with permanent vena cava filters in the prevention of pulmonary embolism. The PREPIC (Prévention du Risque d'Embolie Pulmonaire par Interruption Cave) randomized study. 2005, Circulation, Vol. 112(3), pp. 416-422.

34. Effect of a retrievable inferior vena cava filter plus anticoagulation vs anticoagulation alone on risk of recurrent pulmonary embolism: a randomized clinical trial. Mismetti P, Laporte S, Pellerin O, et al. 2015, JAMA, Vol. 313, pp. 1627–1635.

35. Endovascular exclusion of a large external iliac vein aneurysm. Todorov M, Hernandez D. Jul de 2013, JOURNAL OF VASCULAR SURGERY: VENOUS AND LYMPHATIC DISORDERS, Vols. Volume 1, Number 3, pp. 301-303.

36. Popliteal venous aneurysm: Report of two cases and review of the world literature. SC Aldridge, et al. s.l. : JOURNAL OF VASCULAR SURGERY, 1993, Vols. Volume 18, Number 4.

37. Popliteal Vein Aneurysm: A Rare Cause of Pulmonary Emboli. Anna Sandstrom, Anthony Reynolds, and Pankaj Jha. s.l. : Ann Vasc Surg, 2017, Vol. Volume 38.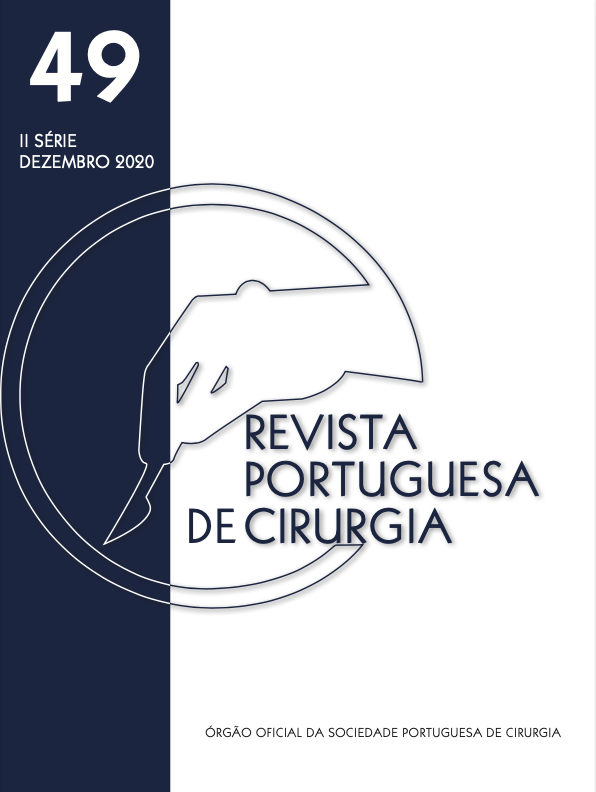 Para permitir ao editor a disseminação do trabalho do(s) autor(es) na sua máxima extensão, o(s) autor(es) deverá(ão) assinar uma Declaração de Cedência dos Direitos de Propriedade (Copyright). O acordo de transferência, (Transfer Agreement), transfere a propriedade do artigo do(s) autor(es) para a Sociedade Portuguesa de Cirurgia.
Se o artigo contiver extractos (incluindo ilustrações) de, ou for baseado no todo ou em parte em outros trabalhos com copyright (incluindo, para evitar dúvidas, material de fontes online ou de intranet), o(s) autor(es) tem(êm) de obter, dos proprietários dos respectivos copyrights, autorização escrita para reprodução desses extractos do(s) artigo(s) em todos os territórios e edições e em todos os meios de expressão e línguas. Todas os formulários de autorização devem ser fornecidos aos editores quando da entrega do artigo.