Aneurismas Venosos Superficiais - Casuística, casos clínicos e revisão da literatura
José Neves

Assistente Graduado de Cirurgia do Centro Hospitalar de Lisboa Central

Virgínia Coelho de Sousa

Interna de formação específica de Dermatologia do Centro Hospitalar Lisboa Central

Daniela Cavadas

Interna de formação específica de Cirurgia Geral do Centro Hospitalar Lisboa Central

Joana Cabete

Assistente de Dermatologia do Centro Hospitalar de Lisboa Central

Ana Formiga

Assistente Graduado de Cirurgia do Centro Hospitalar de Lisboa Central
Abstract
Os aneurismas venosos são uma entidade patológica pouco frequente, embora a sua deteção possa vir a aumentar como consequência da crescente utilização do ecodoppler como meio complementar de diagnóstico. Podem apresentar-se, clinicamente, como massas dos tecidos moles, ocasionalmente simulando hérnia ou adenopatia da região inguinal, particularmente os que surgem no sistema venoso superficial dos membros inferiores. Estão descritos na literatura casos de aneurismas venosos superficiais associados a tromboembolismo pulmonar. Considerando a potencial morbimortalidade, a abordagem terapêutica é cirúrgica na maioria dos casos. Os autores apresentam a sua casuística de aneurismas venosos superficiais num período de 20 anos, três casos clínicos mais exemplificativos e fazem uma revisão da literatura.
Downloads
Download data is not yet available.
References
1. Gillespie D, Villavicencio L, Gallagher C, Chang A, Hamelink J, Fiala L, O'Donnell S, Jackson M, Pikoulis E, Rich N: Presentation and management of venous aneurysms. Journal of Vascular Surgery. 1997; 26 (5): 845-852
2. Chen S, Clouse D, Bowser A, Rasmussen T.: Superficial venous aneurysms of the small saphenous vein. Journal of Vascular Surgery. 2009; 50(3): 644-647
3. Majeski J: Surgical repair of primary saphenous vein aneurysm of the proximal leg after initial presentation as an inguinal hernia. Amer Surgeon 2002; 68: 999-1002
4. Marcucci G, Accrocca F, Antignani L, Siani A: An isolated aneurysm of the thigh anterolateral branch of the greater saphenous vein in a young patient presenting as a inguinal hernia. Interactive CardioVascular and Thoracic Surgery. 2010. 654-655
5. Douma R, Oduber C, Gerdes V, Delden O, van Eck-Smit, Meijers J, van Beers E, Bouma B, van der Horst C, Bresser P: Chronic pulmonary embolism in Klippel-Trenaunay syndrome. JAAD. 2012; 66 (1): 71-77
6. Oduber C.E.U, van Beers E, Bresser P, van der Horst C, Meijers J, Gerdes V: Venous thromboembolism and prothrombotic parameters in Klippel-Trenaunay syndrome. NJM June 2013; 71 (5): 246-252
7. Edgardo RG, Héctor RM, Ana LNR,Juan MHQ, Miguel AJL, Juan MSC, Sócrates OR, Lourdes MMM. Aneurisma venoso subdiagosticado como hernia femural asociado a tromboembolismo pulmonar y revisión de la literatura. Rev. Mexicana de Angiol 2011; 39 (4): 160-163
8. Pascarella L, Al Tuwaijri M, Bergan J, Mekenas L: Lower extremity superficial venous aneurysms. Ann Vascular Surgery. 2005; 19 (1): 69-73
9. Sanchez J. El cayado de la vena safena interna: Anatomía quirúrgica y sus aplicaciones práticas en el tratamiento de las várices. Na Cir Card Vas 2000;6(2):72 9.
10. Keshelava, G, Beselia K, Nachkepia M, Chedia S, Janashia G, Nuralidze K: Surgical treatment of the great saphenous vein aneurysm resulting in pulmonary embolization in two patients. Ann Vascular Surg 2011; 25: 700.el3-700.el15
11. Marongiu GM, Bacciu PP, Noya G, Cossu ML, Dettori G: Venous aneurysms. A contribution to the understanding of a pathology less rare that it is believed to be. Intern Angiol 1988:/:172-174.
12. Schatz I, Gerald F: Venous aneurysms. NEJM 1962; 266: 1310-1312
13. Irwin C, Synn A, Kraiss L, Zhang Q, Griffen M, Hunter G: Metalloproteinase expression in venous aneurysms. Journal of Vascular Surgery November 2008; 48 (5): 1278-1285
14. Tschuor Ch, Dindo D, Clavien PA, Hahnloser D: A challenging hernia: primary venous aneurysm of the proximal saphenous vein. Hernia 2013; 17:11-113
15. Kelay A, Constantinou J, Hamilton H: A Rare and potencially fatal cause of popliteal fossa swelling. BMJ case Rep. 24 June 2014
16. French J, Moncrieff N, Englund R, Hanel K: Thrombotic complications of venous aneurysms. ANZ J.Surg 2003; 73: 384-386
17. Calligaro K, Ahmad S, Dandora R, Dougherty M, Savarese R, Doerr K, McAffe S, DeLaurentis D: Venous aneurysms: surgical indications and review of the literature. Surgery 1995, 117 (1): 1-6
18. Friedman SG, Krishnasastry KV, Doscher W, Deckhoff SL: Primary venous aneurysms. Surgery. 1990; 108: 92-95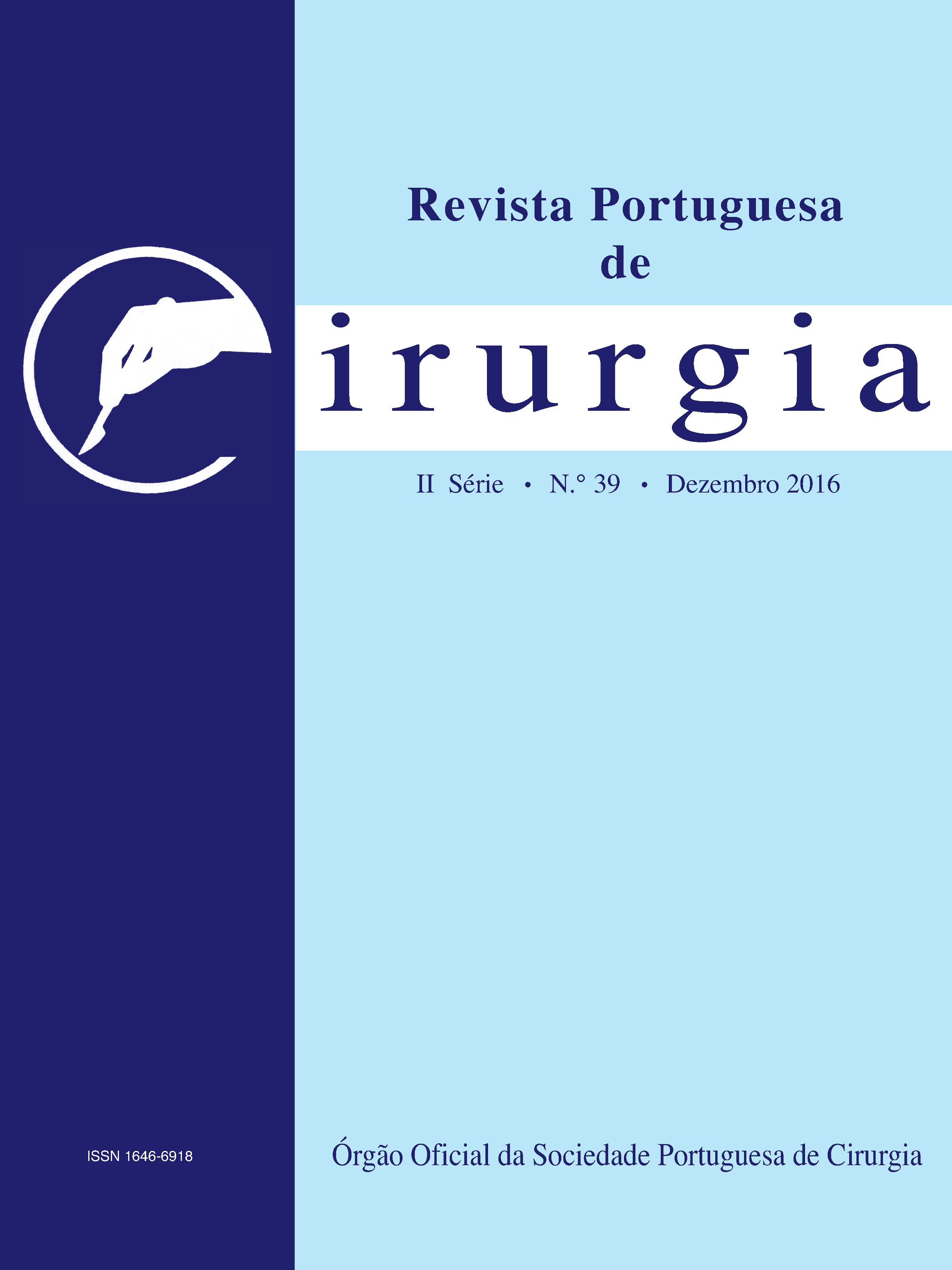 How to Cite
NEVES, José et al. Aneurismas Venosos Superficiais - Casuística, casos clínicos e revisão da literatura.
Revista Portuguesa de Cirurgia
, [S.l.], n. 39, p. 15 - 23, dec. 2016. ISSN 2183-1165. Available at: <
https://revista.spcir.com/index.php/spcir/article/view/520
>. Date accessed: 23 sep. 2017.