Retrospective analyse of protocol used in the Leg Ulcer Multi- disciplinar Clinic of Hospital dos Capuchos in the period between 2002 and the first semester of 2006
Joana Dias Coelho

Serviço de Dermatologia, Hospital dos Capuchos, Lisboa, Portugal

Alberto Clerigué

Serviço de Cirurgia 6, Hospital dos Capuchos, Lisboa, Portugal

José Neves

Serviço de Cirurgia 6, Hospital dos Capuchos, Lisboa, Portugal

C. Pereira Alves

Serviço de Cirurgia 6, Hospital dos Capuchos, Lisboa; Director do Serviço de Cirurgia 6, Hospital dos Capuchos, Lisboa; Professor de Cirurgia da Faculdade de Ciências Médicas da UNL
Abstract
The leg ulcers are an important pathology that typically lead to life quality impairment, frequent stays in the hospital, and risk of mortality enhancement.
It has an incidence of about 1% among adults, reaching incidence levels of 10% among elderly people above the age of 70.
About 95% of the ulcers are diagnosed as venous, arterial, mixed or diabetic, being the most frequent ones the venous ulcers, that typically account for about 70 to 80% of the total number of ulcers identified.
With the goal of optimizing the treatment and counseling of patients suffering from this type of pathology, it was created in 2002 in Hospital dos Capuchos (Lisbon, Portugal) a special multidisciplinary medical center focused in the study and treatment of the leg ulcers. It was established a treatment protocol with the Public Health Centers from unit B, sub-region of Lisbon. Patients are observed by the multidisciplinary group.
The authors of the present research conducted a retrospective study of all the patients observed by this group between 2002 and the first term of 2006. The total number of patients observed was of 294 patients, 80% of them above 60 years old. Results indicated that in terms of the ulcers etiology, 51,3% (n=151) were venous, 35,4% (n=104) were diabetic and 6,8% (n=20) were arterial. The average ulcers area was 23,9cm2, the average number of ulcers was 1,6 , and 42,3% of the ulcers had a duration higher than 6 months. From the sample of 199 positive cultures, 40,2% showed the presence of Staphylococcus aureus, 21,2% of these being MRSA.
The authors concluded that due to the established protocol, the cicatrization rate was of 72,2% and 45,9% of the patients reached total cicatrization of the ulcers in less than 2 months. These results are extremely positive when compared with the average rate of cicatrization (6 months) referred in the medical literature.
Keywords: Leg ulcer; venous leg ulcer; diabetic ulcer; iodopovidone; elastic compression bandages; healing 
Downloads
Download data is not yet available.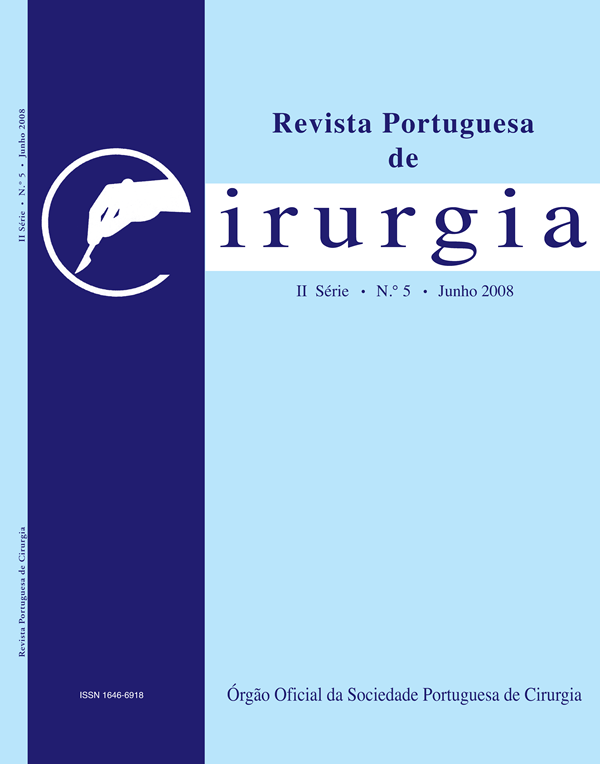 How to Cite
COELHO, Joana Dias et al. Retrospective analyse of protocol used in the Leg Ulcer Multi- disciplinar Clinic of Hospital dos Capuchos in the period between 2002 and the first semester of 2006.
Revista Portuguesa de Cirurgia
, [S.l.], n. 5, p. 19-24, june 2008. ISSN 2183-1165. Available at: <
https://revista.spcir.com/index.php/spcir/article/view/255
>. Date accessed: 03 oct. 2023.