Education and Training in surgery – the challenge of Quality and the avoidance of Error – the role of Simulators
Resumo
.
Downloads
Dados de Download não estão ainda disponíveis.
Referências
1. Institute of Medicine (2000). "To Err Is Human: Building a Safer Health System". The National Academies Press. 2000
2. Johns Hopkins Medicine – online site – Department of Surgery – History
3. Rutkow I. "The education, training, and specialization of surgeons: Turn-of-the century America and its postgraduate medical schools". Ann Surg. 2013;258 (6):1130-1136.
4. Grillo HC. "Edward D. Churchill and the "rectangular" surgical residency". Surgery. 2004;136(5):947-952
5. Satava, Richard M. – Personal Communication 2007
6. Satava, Richard M. "The Revolution in Medical Education—The Role of Simulation". J Grad Med Educ. Dec 2009; 1(2): 172–175.
7. Mayo, WJ. "Medical Education for the general practitioner". JAMA 1927 88:1377-79
8. Spencer, FC. "The Gibbon lecture--competence and compassion: two qualities of surgical excellence". Bull Am Coll Surg. 1979 Nov;64(11):15-22
9. Faulkner, H., G. Regehr, et al. "Validation of an objective structured assessment of technical skill for surgical residents." Acad Med 1996 71(12): 1363-1365.
10. Schiappa, JM "Inquest, done online; presented in 2011, during the 19th EAES Congress, in Turin, Italy"
11. Alzahrani et al. J Can Urol Assoc 7 : E520-E529 - 2013
12. Panait et al. J Surg Res 187:53-58 - 2013
13. Images – from Internet, of free use, from the sites of Simulators makers, authorised use and own images.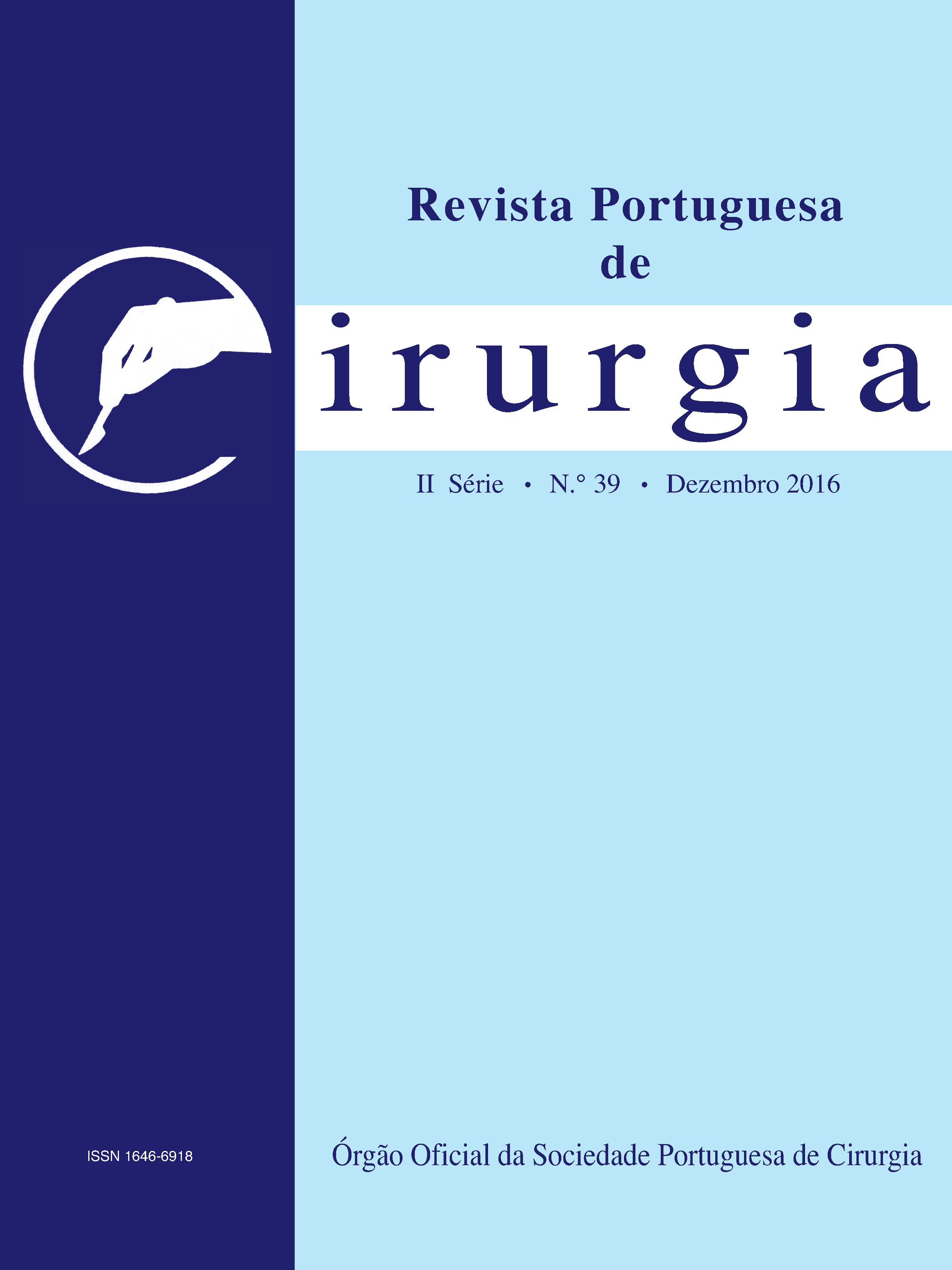 Como Citar
SCHIAPPA, José M.; PENEDO, Jorge. Education and Training in surgery – the challenge of Quality and the avoidance of Error – the role of Simulators.
Revista Portuguesa de Cirurgia
, [S.l.], n. 39, p. 25 - 35, dec. 2016. ISSN 2183-1165. Disponível em: <
https://revista.spcir.com/index.php/spcir/article/view/577
>. Acesso em: 25 mar. 2023.
Secção
Artigos de Revisão
Para permitir ao editor a disseminação do trabalho do(s) autor(es) na sua máxima extensão, o(s) autor(es) deverá(ão) assinar uma Declaração de Cedência dos Direitos de Propriedade (Copyright). O acordo de transferência, (Transfer Agreement), transfere a propriedade do artigo do(s) autor(es) para a Sociedade Portuguesa de Cirurgia.
Se o artigo contiver extractos (incluindo ilustrações) de, ou for baseado no todo ou em parte em outros trabalhos com copyright (incluindo, para evitar dúvidas, material de fontes online ou de intranet), o(s) autor(es) tem(êm) de obter, dos proprietários dos respectivos copyrights, autorização escrita para reprodução desses extractos do(s) artigo(s) em todos os territórios e edições e em todos os meios de expressão e línguas. Todas os formulários de autorização devem ser fornecidos aos editores quando da entrega do artigo.