Pneumoperitoneum in peritoneal dialysis patients
Sílvia Gomes da Silva

Interna do 6.º ano do Internato Complementar de Cirurgia Geral – Centro Hospitalar Lisboa Central

Celso Nabais

Interno do 6.º ano do Internato Complementar de Cirurgia Geral – Centro Hospitalar Lisboa Central

Jorge Penedo

Assistente Graduado de Cirurgia Geral – Centro Hospitalar Lisboa Central
Resumo
Pneumoperitoneum (PP) in peritoneal dialysis (PD) patients is a rare complication; however it should be considered to avoid an unnecessary laparotomy and that will also compromise the dialytic options. A 70 year-old woman with end-stage renal disease had been on chronic PD with automated night therapy for 21 months, without complications or any signs of peritonitis. She was admitted with a sudden epigastric pain. Tympanic abdomen was present on physical examination. The Tenckhoff catheter exit site looked unremarkable. Laboratory testing showed a normal white cell count. An important PP was visible in chest and abdominal X-rays. Contrast-enhanced abdominal CT scan confirmed a generalised PP distributed in supramesocolic recesses. No extravasation of endoluminal contrast was seen. Dialysis catheter was placed at left lower quadrant. We performed the aspiration of PP using an aseptic technique in Trendelenburg position. Abdominal X-ray showed resolution of PP. In the following day she was asymptomatic but abdominal X-ray revealed a newly developed PP, thus we decided to remove the catheter with no recurrence of PP.
Downloads
Dados de Download não estão ainda disponíveis.
Referências
1. Imran M, Bhat R, Anijeet H. Pneumoperitoneum in peritoneal dialysis patients; one centre's experience. NDT Plus 2011; 4:120-123
2. Suresh KR, Port FK. Air under the diaphragm in patients undergoing continuous ambulatory peritoneal dialysis. Perit Dial Int 1989; 9:309-311
3. Kiefer T, Schenk U, Weber J, et al. Incidence and significance of pneumoperitoneum in continuous ambulatory peritoneal dialysis. Am J Kidney Dis1993; 22:30-35.
4. Chang JJ, Yeun JY, Hasbargen JA. Pneumoperitoneum in peritoneal dialysis patients. Am J Kidney Dis 1995; 25:297-301.
5. Cancarini GC, Carli O, Cristinelli MR, et al. Pneumoperitoneum in peritoneal dialysis patients. J Nephrol 1999; 12:95-99.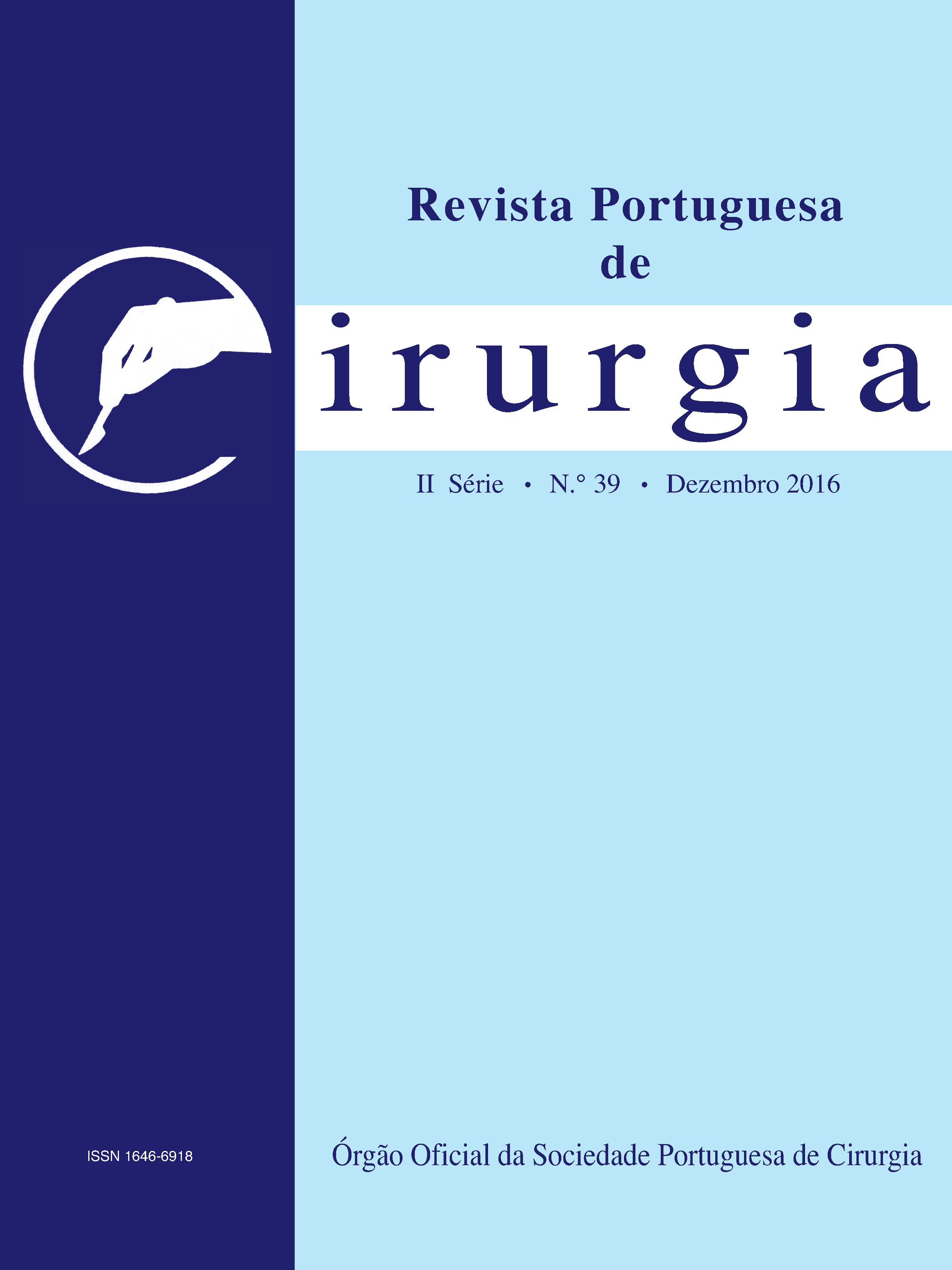 Como Citar
GOMES DA SILVA, Sílvia; NABAIS, Celso; PENEDO, Jorge. Pneumoperitoneum in peritoneal dialysis patients.
Revista Portuguesa de Cirurgia
, [S.l.], n. 39, p. 45 - 47, dec. 2016. ISSN 2183-1165. Disponível em: <
https://revista.spcir.com/index.php/spcir/article/view/498
>. Acesso em: 25 mar. 2023.
Secção
Imagens para Cirurgiões
Para permitir ao editor a disseminação do trabalho do(s) autor(es) na sua máxima extensão, o(s) autor(es) deverá(ão) assinar uma Declaração de Cedência dos Direitos de Propriedade (Copyright). O acordo de transferência, (Transfer Agreement), transfere a propriedade do artigo do(s) autor(es) para a Sociedade Portuguesa de Cirurgia.
Se o artigo contiver extractos (incluindo ilustrações) de, ou for baseado no todo ou em parte em outros trabalhos com copyright (incluindo, para evitar dúvidas, material de fontes online ou de intranet), o(s) autor(es) tem(êm) de obter, dos proprietários dos respectivos copyrights, autorização escrita para reprodução desses extractos do(s) artigo(s) em todos os territórios e edições e em todos os meios de expressão e línguas. Todas os formulários de autorização devem ser fornecidos aos editores quando da entrega do artigo.