Hérnia de Spiegel: descrição de caso clínico com análise da literatura
André Goulart

Serviço de Cirurgia Geral - Hospital de Braga

Helena Marques

Serviço de Cirurgia Geral - Hospital de Braga

Mário Reis

Serviço de Cirurgia Geral - Hospital de Braga
Abstract
As hérnias de Spiegel são hérnias raras da parede abdominal representando apenas 1 a 2%. As hérnias localizam-se lateralmente ao músculo reto abdominal e inferior ao nível do umbigo. O sintoma mais comum referido pelos doentes é de dor e, menos frequentemente, de tumefacção (o que é relevante no diagnostico diferencial de uma hérnia da parede anterior). O diagnóstico é difícil e requer alto nível de suspeição, podendo ser necessário recorrer a exames de imagem para confirmar o diagnóstico e excluir outras causas de tumefação da parede abdominal. Estas hérnias têm habitualmente indicação cirúrgica pelo risco de encarceramento que pode ocorrer em cerca de 25% dos doentes. A cirurgia pode ser por abordagem anterior, com ou sem colocação de prótese sintética, ou por abordagem laparoscópica. O objetivo deste artigo é descrever o caso cínico de uma hérnia rara e analisar as diferentes abordagens cirúrgicas descritas na literatura.
Downloads
Download data is not yet available.
References
Pélissier E, Ngo P. Tratamiento quirúrgico de las hernias de Spigel. Técnicas quirúrgicas –Aparato digestivo –EMC 2010

Mittal T, Kumar V, Khullar R, et al. Diagnosis and management of Spigelian hernia: A review of literature and our experience. Journal of minimal access surgery 2008;4:95-8

Malazgirt Z, Topgul K, Sokmen S, et al. Spigelian hernias: a prospective analysis of baseline parameters and surgical outcome of 34 consecutive patients. Hernia : the journal of hernias and abdominal wall surgery 2006;10:326-30

Moreno-Egea A, Carrasco L, Girela E, Martin JG, Aguayo JL, Canteras M. Open vs laparoscopic repair of spigelian hernia: a prospective randomized trial. Archives of surgery 2002;137:1266-8

Angelici AM, Nasti AG, Petrucciani N, Leonetti G, Palumbo P. Spigelian hernia: a case report and review of the literature. Il Giornale di chirurgia 2006;27:433-5

Perrakis A, Velimezis G, Kapogiannatos G, Koronakis D, Perrakis E. Spigel hernia: a single center experience in a rare hernia entity. Hernia: the journal of hernias and abdominal wall surgery 2012;16:439-44

Palanivelu C, Vijaykumar M, Jani KV, Rajan PS, Maheshkumaar GS, Rajapandian S. Laparoscopic transabdominal preperitoneal repair of spigelian hernia. JSLS : Journal of the Society of Laparoendoscopic Surgeons / Society of Laparoendoscopic Surgeons 2006;10:193-8

Zuvela M, Milicevic M, Galun D, Djuric-Stefanovic A, Bulajic P, Palibrk I. Spigelian hernia repair as a day-case procedure. Hernia: the journal of hernias and abdominal wall surgery 2013;17:483-6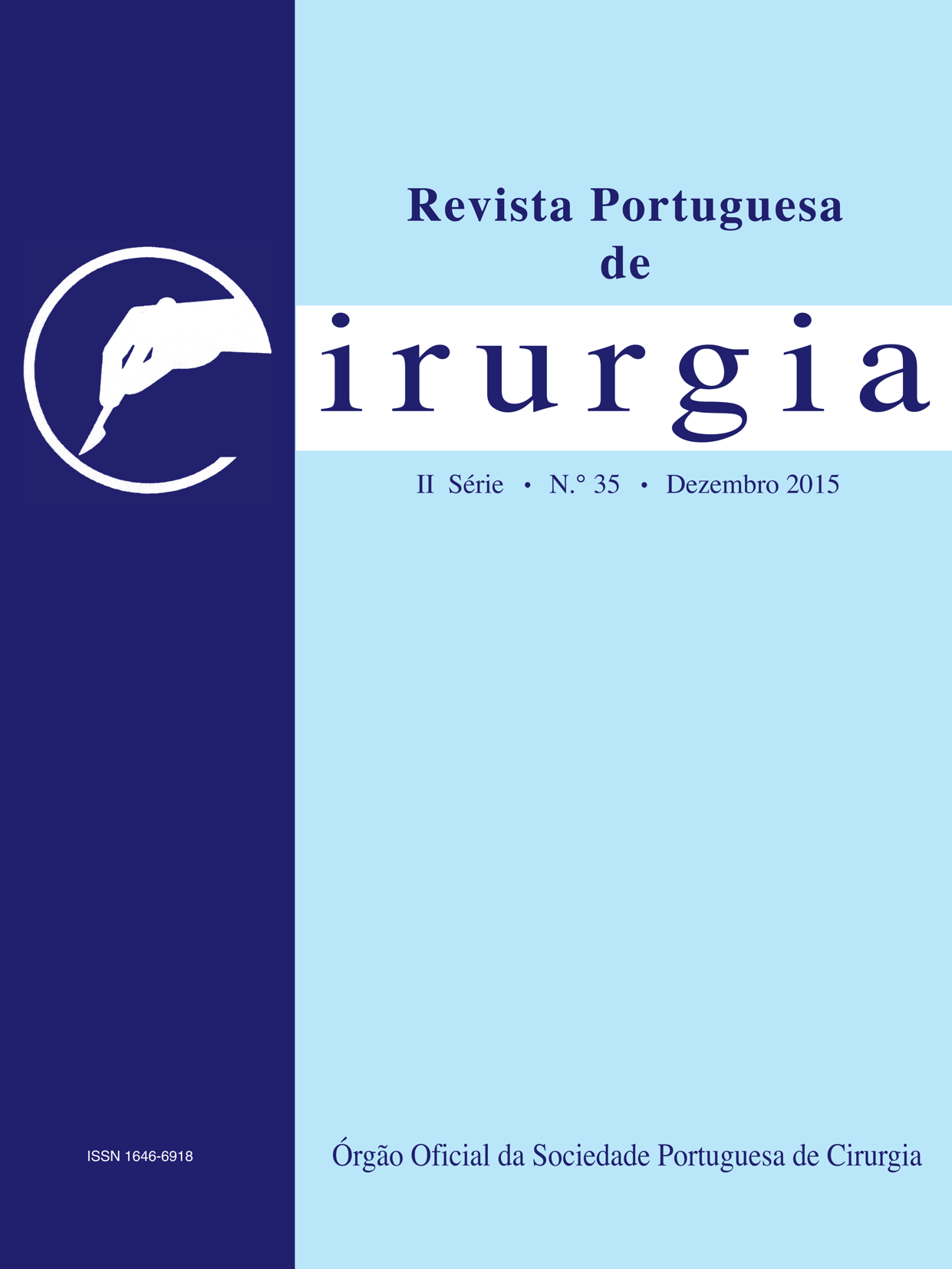 How to Cite
GOULART, André; MARQUES, Helena; REIS, Mário. Hérnia de Spiegel: descrição de caso clínico com análise da literatura.
Revista Portuguesa de Cirurgia
, [S.l.], n. 35, p. 41-47, dec. 2015. ISSN 2183-1165. Available at: <
https://revista.spcir.com/index.php/spcir/article/view/369
>. Date accessed: 03 oct. 2023.