INVESTIGAÇÃO NA ERA COVID-19
José Azevedo

Interno de Cirurgia Geral, Hospital da Horta, Portugal

Joana Simões

Médica Interna de Cirurgia Geral – Hospital Garcia de Orta, Portugal; Research Fellow – NIHR Global Surgery Unit, University of Birmingham
Downloads
Dados de Download não estão ainda disponíveis.
Referências
1. DGS (2020) Comunicado: C160_74_v2, 01/03/2020

2. Agnese A et al. (2020) Coronavirus in Italia: tutte le notizie di febbraio. In: La Repubb. https://www.repubblica.it/cronaca/2020/02/22/news/coronavirus_in_italia_aggiornamento_ora_per_ora-249241616/

3. Nations U (2020) Press freedom critical to countering COVID-19 'pandemic of misinformation': UN chief. In: UN News. https://news.un.org/en/story/2020/05/1063152

4. Day M (2020) Covid-19: ibuprofen should not be used for managing symptoms , say doctors and scientists. 1086:2020. https://doi.org/10.1136/bmj.m1086

5. Mitchell A, Baxter O, Shearer E (2020) About Seven-in-Ten U.S. Adults Say They Need to Take Breaks From COVID-19 News. https://www.journalism.org/2020/04/29/about-seven-in-ten-u-s-adults-say-they-need-to-take-breaks-from-covid-19-news/

6. ALLEA (2020) How con European Academies Support Fight Agains Covid-19. https://allea.org/coronavirus/?cn-reloaded=1

7. Committees E Position of the European Network of Research Ethics Committees ( EUREC ) on the Responsibility of Research Ethics Committees during the COVID-19 Pandemic

8. ENRIO (2020) ENRIO Statement: Research integrity even more important for research during a pandemic. http://www.enrio.eu/enrio-statement-research-integrity-even-more-important-for-research-during-a-pandemic/

9. Collaborative E (2020) COMPASS study – Management of COMPlicAted intra-abdominal collectionS after colorectal Surgery

10. Editor D, Farina V, Foppa C, Rosa MD La, Bach UKS, Bath M, Bhangu A, Burke J, Chapman SJ, Drake T, Fearnhead N, Edward J, Gallagher S, Glasbey J, Gundogan B, Harrison E, Her- J (2016) EuroSurg: a new European student-driven research network in surgery. 214–215. https://doi.org/10.1111/codi.13260

11. PTSurg (2018) Portuguese Surgical Research Collaborative. http://ptsurg.org

12. Forum PO (2018) Moving academic research forward during COVID-19. 2:

13. Collaborative C Elective surgery cancellations due to the COVID-19 pandemic: https://doi.org/10.1002/bjs.11746

14. Collaborative C (2020) Articles Mortality and pulmonary complications in patients undergoing surgery with perioperative SARSCoV-2 infection: an international cohort study. 6736:1–12 . https://doi.org/10.1016/S0140-6736(20)31182-X

15. Nepogodiev D (2018) Right Iliac Fossa Pain Treatment (RIFT) Study: protocol for an international, multicentre, prospective observational study. BMJ Open 8:e017574 . https://doi.org/10.1136/bmjopen-2017-017574

16. Collaborative E (2017) Ileus Management International ( IMAGINE ): protocol for a multicentre , observational study of ileus after colorectal surgery. 17–25 . https://doi.org/10.1111/codi.13976

17. NIHR Global Health Research Unit on Global Surgery (2019) Quality and outcomes in global cancer surgery: protocol for a multicentre, international, prospective cohort study. 1–6. https://doi.org/10.1136/bmjopen-2018-026646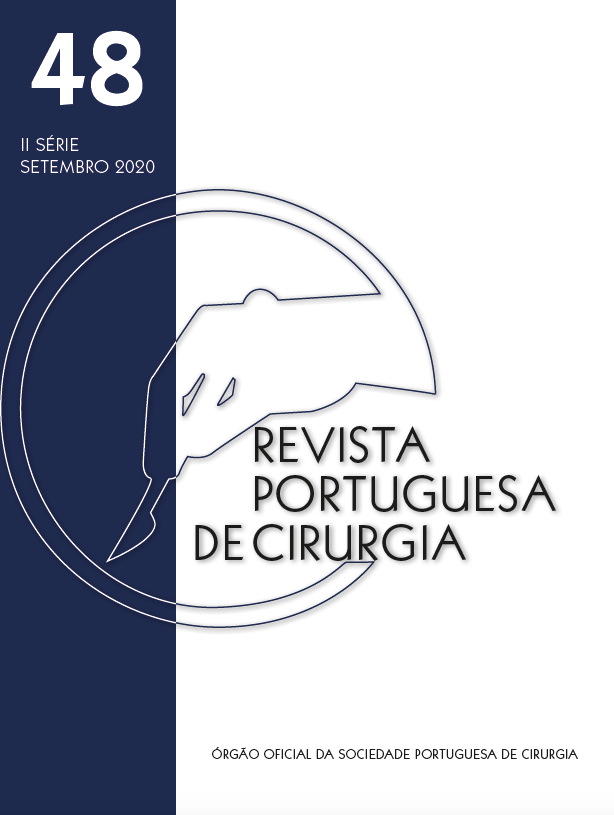 Secção
Página dos Editores
Para permitir ao editor a disseminação do trabalho do(s) autor(es) na sua máxima extensão, o(s) autor(es) deverá(ão) assinar uma Declaração de Cedência dos Direitos de Propriedade (Copyright). O acordo de transferência, (Transfer Agreement), transfere a propriedade do artigo do(s) autor(es) para a Sociedade Portuguesa de Cirurgia.
Se o artigo contiver extractos (incluindo ilustrações) de, ou for baseado no todo ou em parte em outros trabalhos com copyright (incluindo, para evitar dúvidas, material de fontes online ou de intranet), o(s) autor(es) tem(êm) de obter, dos proprietários dos respectivos copyrights, autorização escrita para reprodução desses extractos do(s) artigo(s) em todos os territórios e edições e em todos os meios de expressão e línguas. Todas os formulários de autorização devem ser fornecidos aos editores quando da entrega do artigo.