THE "QUANTUM LEAP" CALLED PRECISION ONCOLOGY
Downloads
Dados de Download não estão ainda disponíveis.
Referências
1. Siegel RL, Miller KD, Jemal A. Cancer statistics, 2020. CA Cancer J Clin. 2020;70:7-30.
2. Falzone L, Salomone S, Libra M. Evolution of Cancer Pharmacological Treatments at the Turn of the Third Millennium. Front Pharmacol. 2018;9:1300.
3. Gambardella V, Tarazona N, Cejalvo JM, Lombardi P, Huerta M, Roselló S, Fleitas T, Roda D, Cervantes A. Personalized Medicine: Recent Progress in Cancer Therapy. Cancers (Basel). 2020; 12:1009.
4. Planchard D, Besse B, Groen HJM, Souquet PJ, Quoix E, Baik CS, Barlesi F, Kim TM, Mazieres J, Novello S, Rigas JR, Upalawanna A, D'Amelio AM Jr, Zhang P, Mookerjee B, Johnson BE. Dabrafenib plus trametinib in patients with previously treated BRAF(V600E)-mutant metastatic non-small cell lung cancer: an open-label, multicentre phase 2 trial. Lancet Oncol. 2016; 17:984-993.
5. Planchard D, Smit EF, Groen HJM, Mazieres J, Besse B, Helland Å, Giannone V, D'Amelio AM Jr, Zhang P, Mookerjee B, Johnson BE. Dabrafenib plus trametinib in patients with previously untreated BRAFV600E-mutant metastatic non-small-cell lung cancer: an open-label, phase 2 trial. Lancet Oncol. 2017; 18:1307-1316.
6. Hong DS, Fakih MG, Strickler JH, Desai J, Durm GA, Shapiro GI, Falchook GS, Price TJ, Sacher A, Denlinger CS, Bang YJ, Dy GK, Krauss JC, Kuboki Y, Kuo JC, Coveler AL, Park K, Kim TW, Barlesi F, Munster PN, Ramalingam SS, Burns TF, Meric-Bernstam F, Henary H, Ngang J, Ngarmchamnanrith G, Kim J, Houk BE, Canon J, Lipford JR, Friberg G, Lito P, Govindan R, Li BT. KRASG12C Inhibition with Sotorasib in Advanced Solid Tumors. N Engl J Med. 2020; 383:1207-1217.
7. Jänne PA, Rybkin II, Spira AI, Riely GJ, Papadopoulos KP, Sabari JK, Johnson ML, Heist RS, Bazhenova L, Barve M, Pacheco JM, Leal TA, Velastegui K, Cornelius C, Olson P, Christensen JG, Kheoh T, Chao RC, Ou SHI. KRYSTAL-1: Activity and Safety of Adagrasib (MRTX849) in Advanced/ Metastatic Non–Small-Cell Lung Cancer (NSCLC) Harboring KRAS G12C Mutation. Eur J Cancer. 2020;138: S1-S2.
8. Burke HB. Predicting Clinical Outcomes Using Molecular Biomarkers. Biomark Cancer. 2016; 8:89-99.
9. Bellevicine C, Malapelle U, Vigliar E, Pisapia P, Vita G, Troncone G. How to prepare cytological samples for molecular testing. J Clin Pathol. 2017;70:819-826.
10. Malone ER, Oliva M, Sabatini PJB, Stockley TL, Siu LL. Molecular profiling for precision cancer therapies. Genome Med. 2020;12:8.
11. Crowley E, Di Nicolantonio F, Loupakis F, Bardelli A. Liquid biopsy: monitoring cancer-genetics in the blood. Nat Rev Clin Oncol. 2013;10:472-84.
12. Rolfo C, Mack PC, Scagliotti GV, Baas P, Barlesi F, Bivona TG, Herbst RS, Mok TS, Peled N, Pirker R, Raez LE, Reck M, Riess JW, Sequist LV, Shepherd FA, Sholl LM, Tan DSW, Wakelee HA, Wistuba II, Wynes MW, Carbone DP, Hirsch FR, Gandara DR. Liquid Biopsy for Advanced Non-Small Cell Lung Cancer (NSCLC): A Statement Paper from the IASLC. J Thorac Oncol. 2018;13:1248-1268.
13. Rolfo C, Cardona AF, Cristofanilli M, Paz-Ares L, Diaz Mochon JJ, Duran I, Raez LE, Russo A, Lorente JA, Malapelle U, Gil-Bazo I, Jantus-Lewintre E, Pauwels P, Mok T, Serrano MJ; ISLB. Challenges and opportunities of cfDNA analysis implementation in clinical practice: Perspective of the International Society of Liquid Biopsy (ISLB). Crit Rev Oncol Hematol. 2020;151:102978.
14. Siravegna G, Marsoni S, Siena S, Bardelli A. Integrating liquid biopsies into the management of cancer. Nat Rev Clin Oncol. 2017;14:531-548.
15. Roy-Chowdhuri S, Mehrotra M, Bolivar AM, Kanagal-Shamanna R, Barkoh BA, Hannigan B, Zalles S, Ye W, Duose D, Broaddus R, Staerkel G, Wistuba I, Medeiros LJ, Luthra R. Salvaging the supernatant: next generation cytopathology for solid tumor mutation profiling. Mod Pathol. 2018;31:1036-1045.
16. Erdmann J. All aboard: Will molecular tumor boards help cancer patients? Nat Med. 2015;21:655-6.
17. van der Velden DL, van Herpen CML, van Laarhoven HWM, Smit EF, Groen HJM, Willems SM, Nederlof PM, Langenberg MHG, Cuppen E, Sleijfer S, Steeghs N, Voest EE. Molecular Tumor Boards: current practice and future needs. Ann Oncol. 2017;28:3070-3075.
18. Hynes SO, Pang B, James JA, Maxwell P, Salto-Tellez M. Tissue-based next generation sequencing: application in a universal healthcare system. Br J Cancer. 2017;116:553-560.
19. Roy-Chowdhuri S, Pisapia P, Salto-Tellez M, Savic S, Nacchio M, de Biase D, Tallini G, Troncone G, Schmitt F. Invited review-next-generation sequencing: a modern tool in cytopathology. Virchows Arch. 2019;475:3-11.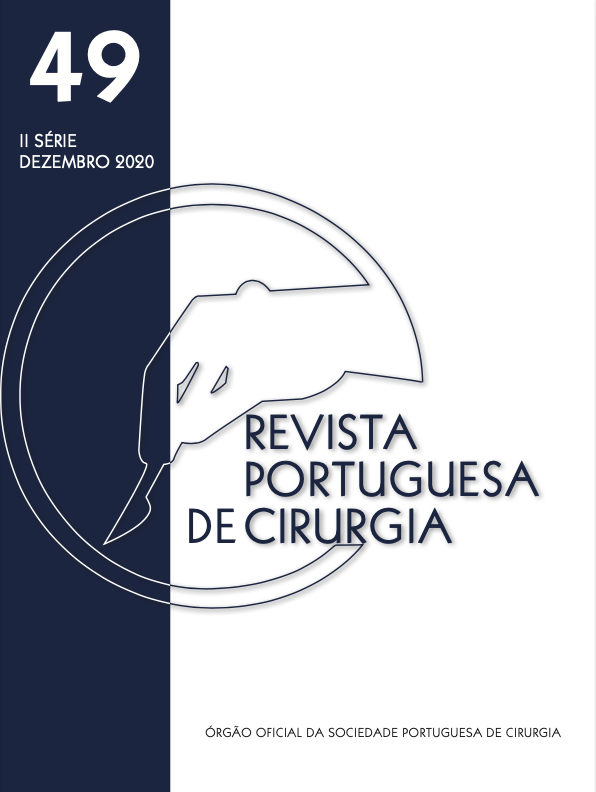 Secção
Página dos Editores
Para permitir ao editor a disseminação do trabalho do(s) autor(es) na sua máxima extensão, o(s) autor(es) deverá(ão) assinar uma Declaração de Cedência dos Direitos de Propriedade (Copyright). O acordo de transferência, (Transfer Agreement), transfere a propriedade do artigo do(s) autor(es) para a Sociedade Portuguesa de Cirurgia.
Se o artigo contiver extractos (incluindo ilustrações) de, ou for baseado no todo ou em parte em outros trabalhos com copyright (incluindo, para evitar dúvidas, material de fontes online ou de intranet), o(s) autor(es) tem(êm) de obter, dos proprietários dos respectivos copyrights, autorização escrita para reprodução desses extractos do(s) artigo(s) em todos os territórios e edições e em todos os meios de expressão e línguas. Todas os formulários de autorização devem ser fornecidos aos editores quando da entrega do artigo.