Hérnia de Littré – a propósito de um caso clínico de um divertículo de Meckel numa hérnia femoral estrangulada
Joana S. Moura

Médico Interno – Hospital Pêro da Covilhã, Centro Hospitalar Universitário Cova da Beira EPE, Covilhã, Portugal

André Vinha

Médico Interno – Hospital Pêro da Covilhã, Centro Hospitalar Universitário Cova da Beira EPE, Covilhã, Portugal

Sofia Jardim Neves

Médico Interno – Hospital Pêro da Covilhã, Centro Hospitalar Universitário Cova da Beira EPE, Covilhã, Portugal

Hugo Gameiro

Médico Assistente – Unidade Local de Saúde Litoral Alentejano, Santiago do Cacém, Portugal

Manuel Pinto Ferreira

Médico Interno – Hospital Pêro da Covilhã, Centro Hospitalar Universitário Cova da Beira EPE, Covilhã, Portugal
Abstract
Introdução: O divertículo de Meckel é a anomalia gastrointestinal congénita mais comum e resulta da obliteração incompleta do ducto vitelino. A hérnia de Littré define-se pela presença de um divertículo de Meckel no saco herniário. O estrangulamento do divertículo de Meckel numa hérnia femoral é uma entidade extremamente rara que requer correção cirúrgica imediata.
Caso Clínico: Reportamos o caso clínico de uma mulher de 18 anos que recorreu ao serviço de urgência por uma hérnia femoral dolorosa e encarcerada à esquerda, sem sinais ou sintomas de obstrução intestinal associados. Durante a intervenção cirúrgica, aquando da abertura do saco herniário, foi identificado um divertículo de Meckel, procedendo-se então a diverticulectomia. A ansa de intestino delgado não se encontrava herniada nem tinha sinais de isquemia, pelo que não foi necessário realizar uma enterectomia. O defeito herniário foi subsequentemente corrigido através da técnica de Lichtenstein modificada.
Discussão: A sintomatologia de um divertículo de Meckel complicado é inespecífica e dependente do tipo de complicação. O diagnóstico de hérnia de Littré é exigente e difícil de estabelecer durante o pré-operatório, uma vez que a sua apresentação clínica é ambígua e a imagiologia tem um papel limitado. Quando a obstrução do intestino delgado é provocada por um divertículo de Meckel complicado, a intervenção cirúrgica tem como objetivo principal remover o divertículo e corrigir a patologia associada, independentemente da abordagem utilizada ser laparoscópica ou cirurgia aberta.
Conclusão: No caso de uma hérnia de Littré estrangulada o tratamento é baseado na condição clínica do doente e na experiência do cirurgião. Não obstante, o tratamento requer, pelo menos, uma ressecção completa do divertículo para evitar complicações futuras.
Downloads
Download data is not yet available.
References
1. López-Lizárraga CR, Sánchez-Muñoz MP, Juárez-López GE, Pelayo-Orozco L, De la Cernadas-Trujillo LF, Ploneda-Valencia CF (2017) A rare case of a strangulated Littre´s hernia with Meckel´s diverticulum duplication. Case report and literature review. Int J Surg Case Rep. 33: 58-61. doi: 10.1016/j.ijscr.2017.02.032
2. Malik AA, Shams-ul-Bari, Wani KA, Khaja AR (2010) Meckel's Diverticulum – Revisited. Saudi J Gastroenterol 16 (1): 3-7. Doi: 10.4103/1319-3767.58760
3. Misiak P, Piskor L, Katrin L, Jabłoński S, Kordiak J, Brockley M (2014) Strangulation of a Meckel's diverticulum in a femoral hernia (Littré's hernia). Prz Gastroenterol 9 (3): 172-174. doi: 10.5114/pga. 2014.43580
4. Johns TNP, Wheeler JR, Johns FS (1959) Meckel's Diverticulum and Meckel's Diverticulum Disease: A Study of 154 cases. Ann Surg 150 (2): 241-256.
5. Sharma RK, Jain VK (2008) Emergency surgery for Meckel's diverticulum. World J Emerg Surg 3: 27. doi 10.1186/1749-7922-3-27
6. Stănescu GL, Pleşea IE, Diaconu R, Gheonea C, Sabetay C, Tîştea D, Niculescu EC (2014) Meckel's diverticulum in children, clinical and pathological aspects. Rom J Morphol Embryol, 55 (3 Suppl):1167-70.
7. Magagi IA, Adamou H, Habou O (2016) A case of Littré's hernia at Zinder National Hospital, Zinder, Niger. J West Afr Coll Surg 6 (2): 125-130.
8. Malling B, Karlsen AA, Hern J (2017) Littre Hernia: A Rare Case of an Incarcerated Meckel's Diverticulum. Ultrasound Int Open 3 (2): E91-92. doi: 10.1055/s-0043-102179
9. Payson BA, Schneider KM, Victor MB (1956) Strangulation of a Meckel's Diverticulum in a Femoral Hernia (Littré's). Ann Surg 144 (2): 277-281.
10. Smart N, Immanuel A, Mercer-Jones M (2007) Laparoscopic repair of a Littré's hernia with porcine dermal collagen implant (Permacol). Hernia 11: 373-376. doi: 10.1007/s10029-007-0197-4
11. Horkoff MJ, Smyth NG, Hunter JM (2014) A large incarcerated Meckel's diverticulum in an inguinal hernia. Int J Surg Case Rep. 5(12): 899-901. doi: 10.1016/j.ijscr.2014.09.036
12. Chan KW, Lee KH, Mou JWC, Cheung ST, Tam YH (2008) The use of laparoscopy in the management of Littré's hernia in children. Pediatr Surg Int 24: 855-858. doi: 10.1007/s00383-008-2161-5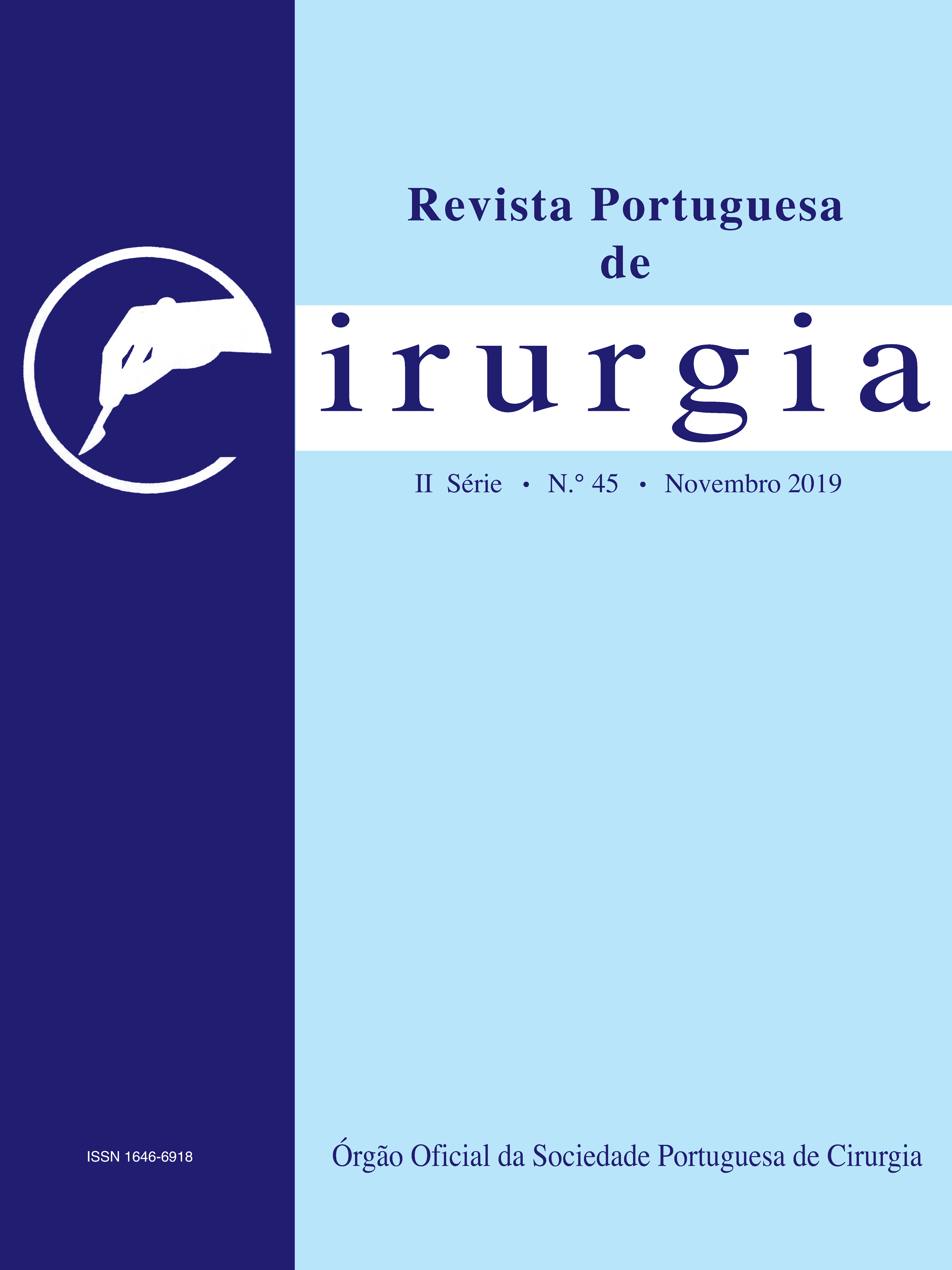 How to Cite
MOURA, Joana S. et al. Hérnia de Littré – a propósito de um caso clínico de um divertículo de Meckel numa hérnia femoral estrangulada.
Revista Portuguesa de Cirurgia
, [S.l.], n. 45, p. 17-23, dec. 2019. ISSN 2183-1165. Available at: <
https://revista.spcir.com/index.php/spcir/article/view/675
>. Date accessed: 03 oct. 2023.