Littré's hernia – a case of a Meckel's diverticulum in a strangulated femoral hernia and literature review
Joana S. Moura

Médico Interno – Hospital Pêro da Covilhã, Centro Hospitalar Universitário Cova da Beira EPE, Covilhã, Portugal

André Vinha

Médico Interno – Hospital Pêro da Covilhã, Centro Hospitalar Universitário Cova da Beira EPE, Covilhã, Portugal

Sofia Jardim Neves

Médico Interno – Hospital Pêro da Covilhã, Centro Hospitalar Universitário Cova da Beira EPE, Covilhã, Portugal

Hugo Gameiro

Médico Assistente – Unidade Local de Saúde Litoral Alentejano, Santiago do Cacém, Portugal

Manuel Pinto Ferreira

Médico Interno – Hospital Pêro da Covilhã, Centro Hospitalar Universitário Cova da Beira EPE, Covilhã, Portugal
Resumo
Introduction: Meckel's diverticulum is the most common gastrointestinal congenital anomaly and it results from an incomplete obliteration of the vitelline duct. Littré's hernia is defined by the presence of a Meckel's diverticulum in a hernia sac. A strangulated Meckel's diverticulum in a femoral hernia is an extremely rare entity and its management requires prompt surgery.
Case Report: We describe a case of a 18-year-old woman that presented with a painful incarcerated femoral hernia in her left groin. She did not have any signs or symptoms of bowel obstruction. During surgery, a Meckel's diverticulum was identified in the hernia sac. The  small bowel was not herniated and did not show signs of ischaemia, thus, an enterectomy was not required. A diverticulectomy was performed and the hernia defect was subsequently repaired with a modified Lichtenstein technique.
Discussion: The symptomatology of a complicated Meckel's diverticulum is non-specific and dependent on the type of complication. The diagnosis of Littré's hernia is challenging and difficult to establish preoperatively since its presentation is ambiguous and imaging has a limited role. When small bowel obstruction is caused by a complicated Meckel's diverticulum, the main aim of surgery is to remove the diverticulum and to correct the associated pathology, either by laparoscopy or by an open surgical approach.
Conclusion: A patient's condition and surgeon based management is generally adopted in case of a strangulated Littré's hernia. Nevertheless, it requires complete resection of the diverticulum to avoid future complications.
Downloads
Dados de Download não estão ainda disponíveis.
Referências
1. López-Lizárraga CR, Sánchez-Muñoz MP, Juárez-López GE, Pelayo-Orozco L, De la Cernadas-Trujillo LF, Ploneda-Valencia CF (2017) A rare case of a strangulated Littre´s hernia with Meckel´s diverticulum duplication. Case report and literature review. Int J Surg Case Rep. 33: 58-61. doi: 10.1016/j.ijscr.2017.02.032
2. Malik AA, Shams-ul-Bari, Wani KA, Khaja AR (2010) Meckel's Diverticulum – Revisited. Saudi J Gastroenterol 16 (1): 3-7. Doi: 10.4103/1319-3767.58760
3. Misiak P, Piskor L, Katrin L, Jabłoński S, Kordiak J, Brockley M (2014) Strangulation of a Meckel's diverticulum in a femoral hernia (Littré's hernia). Prz Gastroenterol 9 (3): 172-174. doi: 10.5114/pga. 2014.43580
4. Johns TNP, Wheeler JR, Johns FS (1959) Meckel's Diverticulum and Meckel's Diverticulum Disease: A Study of 154 cases. Ann Surg 150 (2): 241-256.
5. Sharma RK, Jain VK (2008) Emergency surgery for Meckel's diverticulum. World J Emerg Surg 3: 27. doi 10.1186/1749-7922-3-27
6. Stănescu GL, Pleşea IE, Diaconu R, Gheonea C, Sabetay C, Tîştea D, Niculescu EC (2014) Meckel's diverticulum in children, clinical and pathological aspects. Rom J Morphol Embryol, 55 (3 Suppl):1167-70.
7. Magagi IA, Adamou H, Habou O (2016) A case of Littré's hernia at Zinder National Hospital, Zinder, Niger. J West Afr Coll Surg 6 (2): 125-130.
8. Malling B, Karlsen AA, Hern J (2017) Littre Hernia: A Rare Case of an Incarcerated Meckel's Diverticulum. Ultrasound Int Open 3 (2): E91-92. doi: 10.1055/s-0043-102179
9. Payson BA, Schneider KM, Victor MB (1956) Strangulation of a Meckel's Diverticulum in a Femoral Hernia (Littré's). Ann Surg 144 (2): 277-281.
10. Smart N, Immanuel A, Mercer-Jones M (2007) Laparoscopic repair of a Littré's hernia with porcine dermal collagen implant (Permacol). Hernia 11: 373-376. doi: 10.1007/s10029-007-0197-4
11. Horkoff MJ, Smyth NG, Hunter JM (2014) A large incarcerated Meckel's diverticulum in an inguinal hernia. Int J Surg Case Rep. 5(12): 899-901. doi: 10.1016/j.ijscr.2014.09.036
12. Chan KW, Lee KH, Mou JWC, Cheung ST, Tam YH (2008) The use of laparoscopy in the management of Littré's hernia in children. Pediatr Surg Int 24: 855-858. doi: 10.1007/s00383-008-2161-5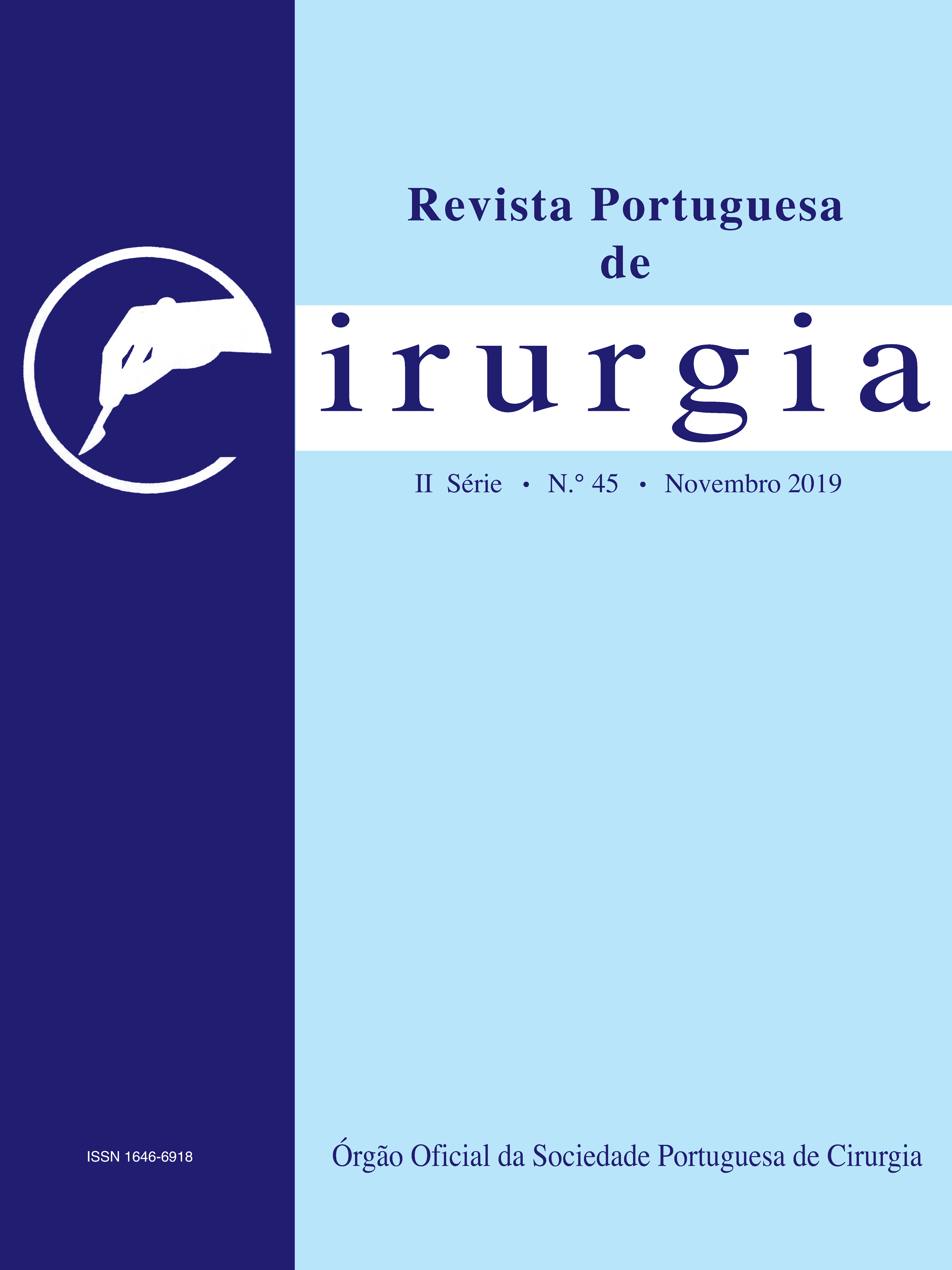 Como Citar
MOURA, Joana S. et al. Littré's hernia – a case of a Meckel's diverticulum in a strangulated femoral hernia and literature review.
Revista Portuguesa de Cirurgia
, [S.l.], n. 45, p. 17-23, dec. 2019. ISSN 2183-1165. Disponível em: <
https://revista.spcir.com/index.php/spcir/article/view/675
>. Acesso em: 25 mar. 2023.
Para permitir ao editor a disseminação do trabalho do(s) autor(es) na sua máxima extensão, o(s) autor(es) deverá(ão) assinar uma Declaração de Cedência dos Direitos de Propriedade (Copyright). O acordo de transferência, (Transfer Agreement), transfere a propriedade do artigo do(s) autor(es) para a Sociedade Portuguesa de Cirurgia.
Se o artigo contiver extractos (incluindo ilustrações) de, ou for baseado no todo ou em parte em outros trabalhos com copyright (incluindo, para evitar dúvidas, material de fontes online ou de intranet), o(s) autor(es) tem(êm) de obter, dos proprietários dos respectivos copyrights, autorização escrita para reprodução desses extractos do(s) artigo(s) em todos os territórios e edições e em todos os meios de expressão e línguas. Todas os formulários de autorização devem ser fornecidos aos editores quando da entrega do artigo.