Metástases Suprarrenais
Carlos Serra

Assistente Hospitalar de Cirurgia Geral Hospital dos SAMS, Lisboa Faculdade de Ciências da Saúde Universidade da Beira Interior, Covilhã
Resumo
A crescente disponibilidade e definição dos exames complementares de diagnóstico, nomeadamente imagiológico, tem levado ao aumento do número de nódulos suprarrenais detetados. Estes nódulos devem ser objecto de investigação visando o esclarecimento da sua natureza e funcionalidade. A descoberta de um nódulo suprarrenal em doente com história pregressa de neoplasia deve levantar a suspeita de metástase, já que as mesmas são encontradas em 32-72% dos casos. A presença de metástases suprarrenais, apesar de representar um estadio avançado da doença neoplásica, não exclui a possibilidade de tratamento cirúrgico, já que a resseção das mesmas, quando indicada, está associada a um aumento da sobrevida. A adrenalectomia laparoscópica, técnica "gold standard" no tratamento da patologia benigna desta glândula poderá também ser oferecida a estes pacientes, sem compromisso do prognóstico. Através da revisão da literatura recente, o autor sistematiza a abordagem das metástases suprarrenais na perspectiva do cirurgião relativamente ao diagnóstico, indicação operatória, prognóstico e alternativas terapêuticas.
Downloads
Dados de Download não estão ainda disponíveis.
Referências
1. Sundin, A., Imaging of adrenal masses with emphasis on adrenocortical tumors. Theranostics, 2012. 2(5): p. 516-22.

2. Jain, S.M., Adrenal incidentaloma: A puzzle for clinician. Indian J Endocrinol Metab, 2013. 17(Suppl1): p. S59-s63.

3. Uberoi, J. and R. Munver, Surgical management of metastases to the adrenal gland: open, laparoscopic, and ablative approaches. Curr Urol Rep, 2009. 10(1): p. 67-72.

4. Mitchell, I.C. and F.E. Nwariaku, Adrenal masses in the cancer patient: surveillance or excision. Oncologist, 2007. 12(2): p. 168-74.

5. Sancho, J.J., et al., Surgical management of adrenal metastases. Langenbecks Arch Surg, 2012. 397(2): p. 179-94.

6. Washino, S., et al., Long-term survival after adrenalectomy for asynchronous metastasis of bladder cancer to the bilateral adrenal glands. Case Rep Urol, 2012. 2012: p. 425230.

7. Zheng, Q.Y., et al., Adrenalectomy may increase survival of patients with adrenal metastases. Oncol Lett, 2012. 3(4): p. 917-920.

8. Castillo, O.A., et al., Laparoscopic adrenalectomy for suspected metastasis of adrenal glands: our experience. Urology, 2007. 69(4): p. 637-41.

9. Gagner, M., Laparoscopic adrenalectomy. Surg Clin North Am, 1996. 76(3): p. 523-37.

10. Perrier, N.D., et al., Posterior retroperitoneoscopic adrenalectomy: preferred technique for removal of benign tumors and isolated metastases. Ann Surg, 2008. 248(4): p. 666-74.

11. McLean, K., et al., Management of isolated Adrenal Lesions in Cancer Patients. Cancer Control, 2011. 18(2): p. 113-26.

12. Goh, J. Imaging in Adrenal Metastases. 2013 22 July 2013 [cited 2013; Available from: http://emedicine.medscape.com/article/376585-overview.

13. Mazzaglia, P.J. and J.M. Monchik, Limited value of adrenal biopsy in the evaluation of adrenal neoplasm: a decade of experience. Arch Surg, 2009. 144(5): p. 465-70.

14. Stefanidis, D., et al., SAGES guidelines for minimally invasive treatment of adrenal pathology. Surg Endosc, 2013. 27(11): p. 3960-80.

15. NCCN Guidelines Version 2.2014 Adrenal Gland Tumors. 12-11-2013 [cited 2014 16-01-2014]; Available from: http://www.nccn.org/professionals/physician_gls/pdf/neuroendocrine.pdf.

16. Strong, V.E., et al., Laparoscopic adrenalectomy for isolated adrenal metastasis. Ann Surg Oncol, 2007. 14(12): p. 3392-400.

17. Sarela, A.I., et al., Metastasis to the adrenal gland: the emerging role of laparoscopic surgery. Ann Surg Oncol, 2003. 10(10): p. 1191-6.

18. Walz, M.K., et al., Posterior retroperitoneoscopy as a new minimally invasive approach for adrenalectomy: results of 30 adrenalectomies in 27 patients. World J Surg, 1996. 20(7): p. 769-74.

19. Giebler, R.M., et al., Hemodynamic changes after retroperitoneal CO2 insufflation for posterior retroperitoneoscopic adrenalectomy. Anesth Analg, 1996. 82(4): p. 827-31.

20. Duh, Q.Y., Resecting isolated adrenal metastasis: why and how? Ann Surg Oncol, 2003. 10(10): p. 1138-9.

21. Bradley, C.T. and V.E. Strong, Surgical management of adrenal metastases. J Surg Oncol, 2014. 109(1): p. 31-5.

22. Howell, G.M., et al., Outcome and prognostic factors after adrenalectomy for patients with distant adrenal metastasis. Ann Surg Oncol, 2013. 20(11): p. 3491-6.

23. Moreno, P., et al., Adrenalectomy for solid tumor metastases: Results of a multicenter European study. Surgery, 2013. 154(6): p. 1215-23.

24. Marangos, I.P., et al., Should we use laparoscopic adrenalectomy for metastases? Scandinavian multicenter study. Journal of Surgical Oncology, 2009. 100(1): p. 43-47.

25. Muth, A., et al., Prognostic factors for survival after surgery for adrenal metastasis. Eur J Surg Oncol, 2010. 36(7): p. 699-704.

26. Landry CS, P.N., Karp DD, Xing Y, Lee JE, Grubbs EG, Outcome of patients with adrenal metastasis from lung cancer: Selection criteria for surgery. Journal of Clinical Oncology, 2010 ASCO Annual Meeting Abstracts., 2010. 28(15 Suppl (May 20 Supplement)): p. e18071.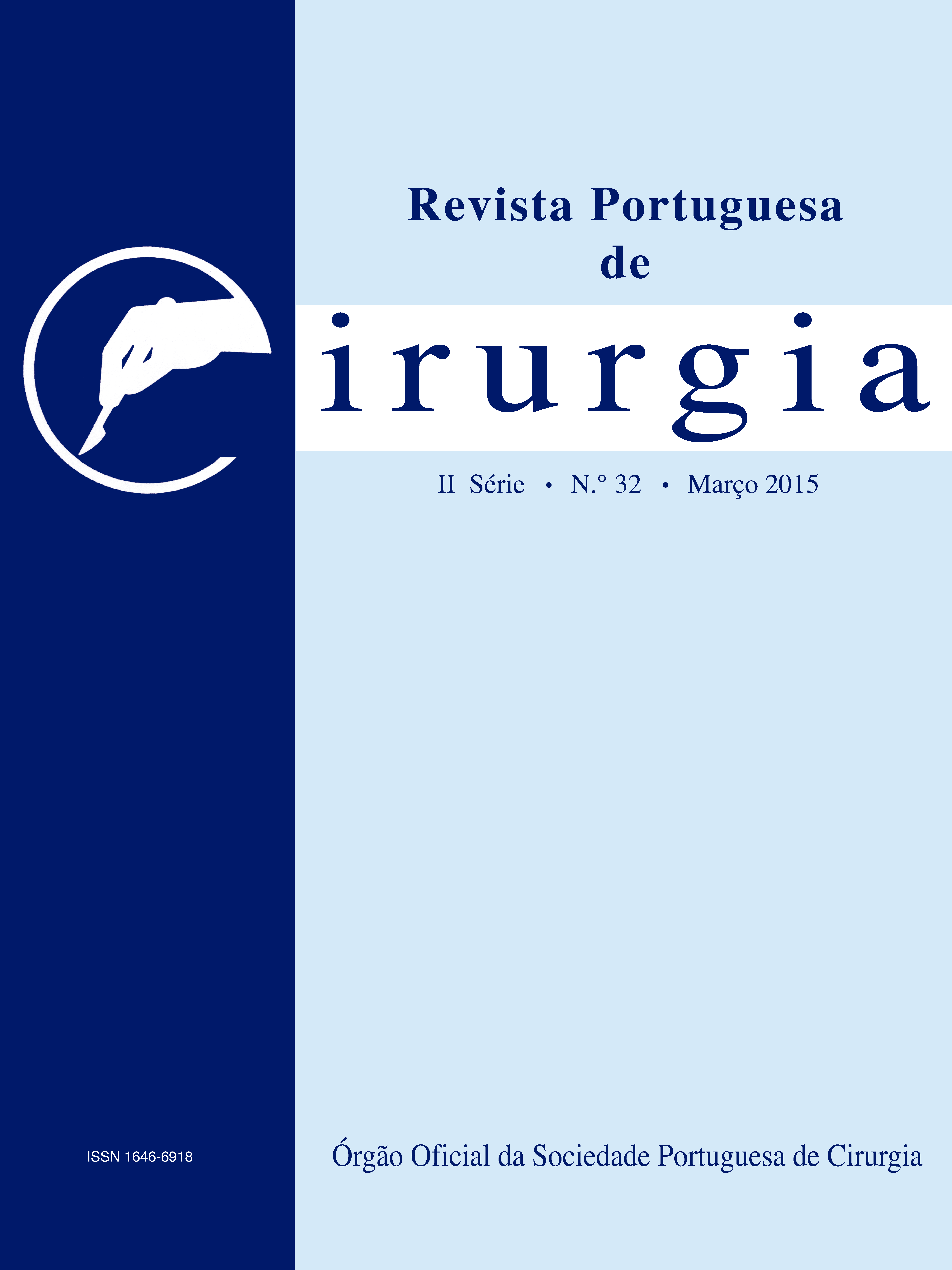 Secção
Artigos de Revisão
Para permitir ao editor a disseminação do trabalho do(s) autor(es) na sua máxima extensão, o(s) autor(es) deverá(ão) assinar uma Declaração de Cedência dos Direitos de Propriedade (Copyright). O acordo de transferência, (Transfer Agreement), transfere a propriedade do artigo do(s) autor(es) para a Sociedade Portuguesa de Cirurgia.
Se o artigo contiver extractos (incluindo ilustrações) de, ou for baseado no todo ou em parte em outros trabalhos com copyright (incluindo, para evitar dúvidas, material de fontes online ou de intranet), o(s) autor(es) tem(êm) de obter, dos proprietários dos respectivos copyrights, autorização escrita para reprodução desses extractos do(s) artigo(s) em todos os territórios e edições e em todos os meios de expressão e línguas. Todas os formulários de autorização devem ser fornecidos aos editores quando da entrega do artigo.