A importância das bases de dados na gestão do conhecimento em saúde
Nuno José Rama

Assistente de Cirurgia Geral Mestre em Gestão e Economia da Saúde Fellow do European Board of Surgery (Division of Coloproctology)

João Manuel Paiva Pimentel

Professor Associado com Agregação na Faculdade de Medicina da Universidade de Coimbra Assistente Graduado Sénior de Cirurgia Geral

Vítor Raposo

Professor Auxiliar na Faculdade de Economia da Universidade de Coimbra
Abstract
Os autores refletem sobre a importância da gestão da informação como meio de promoção do conhecimento na saúde, tomando como exemplo o cancro colorretal em Portugal. Apresentam os principais registos de medição dos resultados do tratamento do cancro colorretal nacionais e europeus e tecem algumas considerações sobre gestão do conhecimento e o processo de tomada de decisão em saúde. Terminam com a descrição do projeto de modelação desenvolvido para o cancro colorretal.
Downloads
Download data is not yet available.
References
Abidi, S. (2008). Healthcare knowledge management: The art of the possible. In D. Riaño (Ed.), Knowledge Management for Health Care Procedures (pp. 1-20). Canada: Springer.

Bosch, S., & Nagtegaal, I. (2012). The Importance of the Pathologist's Role in Assessment of the Quality of the Mesorectum. Curr Colorectal Cancer Rep, 8(2), 90-98. doi: 10.1007/s11888-012-0124-7

DGS. (2014). Epidemiologia e Estatísticas de Saúde. Retrieved 7th, Jan, 2014, from www.dgsaude.min-saude.pt/pns/vol1 311html

Dobrow, M., Goel, V., & Upshur, R. (2004). Evidence-based health policy: context and utilisation. Social science & medicine, 58(1), 207-217.

Ferlay, J., Steliarova-Foucher, E., Lortet-Tieulent, J., Rosso, S., Coebergh, J., Comber, H., . . . Bray, F. (2013). Cancer incidence and mortality patterns in Europe: Estimates for 40 countries in 2012. European journal of cancer (Oxford, England : 1990), 49(6), 1374-1403.

Guptill, J. (2005). Knowledge management in health care. J Health Care Finance, 31(3), 10-14.
Ortiz, H. (2009). Equipos seguros en la cirugía del cáncer de recto en España. Asociación Española de Cirujanos. Retrieved 12 jan 2014, from http://www.aecirujanos.es/secciones/coloproctologia/proyecto_vikingo_informes.php

Ortiz, H., Wibe, A., Ciga, M., Lujan, J., Codina, A., & Biondo, S. (2013). Impact of a multidisciplinary team training programme on rectal cancer outcomes in Spain. Colorectal Dis, 15(5), 544-551. doi: 10.1111/codi.12141

Rama, N. (2014) Concepção de uma base de dados do cancro colorretal. (Dissertação de Mestrado), Universidade de Coimbra (Faculdade de Economia), Coimbra.

SPCIR. (2014). Projecto Multidisciplinar sobre Cancro do Recto em Portugal. Retrieved 26-4-2014, 2014, from http://www.spcir.com/menu-registos-nacionais.html

van de Velde, C., Boelens, P., Borras, J., Coebergh, J., Cervantes, A., Blomqvist, L., . . . Valentini, V. (2014). EURECCA colorectal: Multidisciplinary management: European consensus conference colon & rectum. Eur J Cancer, 50(1), 1.e1-1.e34. doi: 10.1016/j.ejca.2013.06.048

van Gijn, W., van den Broek, C., Mroczkowski, P., Dziki, A., Romano, G., Pavalkis, D., . . . van de Velde, C. (2012). The EURECCA project: Data items scored by European colorectal cancer audit registries. Eur J Surg Oncol, 38(6), 467-471. doi: 10.1016/j.ejso.2012.01.005

WHO. (2012). GLOBOCAN 2012 - Estimated cancer incidence,mortality and prevalence worldwide, in 2012. Retrieved 2 Jan 2014, from http://globocan.iarc.fr/Pages/population.aspx

Wibe, A., Moller, B., Norstein, J., Carlsen, E., Wiig, J., Heald, R., . . . Soreide, O. (2002). A national strategic change in treatment policy for rectal cancer--implementation of total mesorectal excision as routine treatment in Norway. A national audit. Dis Colon Rectum, 45(7), 857-866.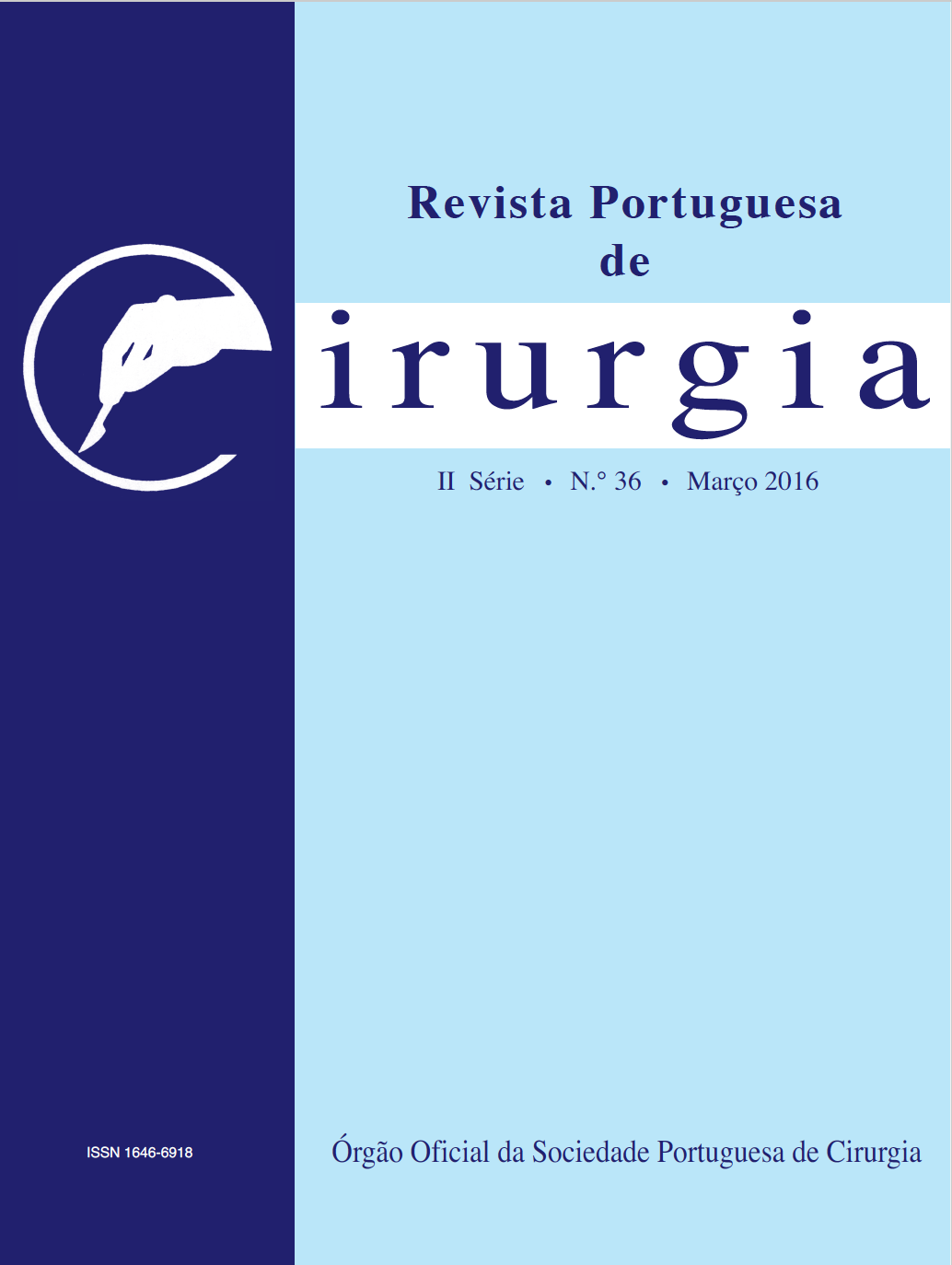 How to Cite
RAMA, Nuno José; PIMENTEL, João Manuel Paiva; RAPOSO, Vítor. A importância das bases de dados na gestão do conhecimento em saúde.
Revista Portuguesa de Cirurgia
, [S.l.], n. 36, p. 38-40, mar. 2016. ISSN 2183-1165. Available at: <
https://revista.spcir.com/index.php/spcir/article/view/456
>. Date accessed: 03 oct. 2023.