Cirurgia oncoplástica da mama – passado, presente e futuro
J.-S. Leal de Faria

Assistente Graduado de Cirurgia Geral – Responsável da Clínica da Mama do IPOLFG – EPE e Coordenador do Centro de Mama do H.Luz, Portugal

P. Viana Lopes

Assistente de Cirurgia Geral – Unidade Funcional de Patologia de Mama – CHLC
Resumo
A cirurgia conservadora da mama tornou-se o tratamento standard do carcinoma da mama precoce. O objectivo primário desta abordagem é a remoção do cancro com margens cirúrgicas adequadas ao mesmo tempo que se preservam a forma natural e o aspecto da mama. Ainda se registam fracos resultados estéticos em até 40% dos pacientes. Para resolver este problema, foram desenvolvidas abordagens especializadas de ressecção com reconstrução concomitante, denominadas actualmente como cirurgia oncoplástica da mama. A complexidade dessas técnicas exige treino cirúrgico avançado e os critérios de selecção são de algum modo controversos. Neste artigo procuramos rever as diferentes técnicas e as linhas de orientação para a sua aplicação, revendo ao mesmo tempo a sua segurança oncológica.
Palavras-chave: Cancro da mama; cirurgia conservadora da mama; cirurgia oncoplástica da mama; mamoplastia. 
Downloads
Dados de Download não estão ainda disponíveis.
Referências
Fisher B, Anderson S, Bryant J, et al. Twenty-year follow-up of a randomized trial comparing total mastectomy, lumpectomy, and lumpec- tomy plus irradiation for the treatment of invasive breast cancer. N Engl J Med. 2002;

Veronesi U, Banfi A, Salvadori B, et al. Breast conservation is the treatment of choice in small breast cancer: long-term results of a randomi- zed trial. Eur J Cancer, 1990;

Kaufmann M, Morrow M, von Minckwitz G, et al. Locoregional treatment of primary breast cancer: consensus recommendations from an International Expert Panel. Cancer, 2010;

Meric F, Mirza NQ, Vlastos G, et al. Positive surgical margins and ipsilateral breast tumor recurrence predict disease-specific survival after breastconserving therapy. Cancer, 2003;

Park CC, Mitsumori M, Nixon A, et al. Outcome at 8 years after breastconserving surgery and radiation therapy for invasive breast cancer: influence of margin status and systemic therapy on local recurrence. J Clin Oncol, 2000;

Singletary SE. Surgical margins in patients with early-stage breast cancer treated with breast conservation therapy. Am J Surg, 2002;

Al-Ghazal SK, Fallowfield L, Blamey RW. Does cosmetic outcome from treatment of primary breast cancer influence psychosocial morbidity? Eur J Surg Onco, 1999;28:871-873;

Curran D, van Dongen JP, Aaronson NK, et al. Quality of life of early-stage breast cancer patients treated with radical mastectomy or breast-conserving procedures: results of EORTC Trial 10801. Eur J Cancer, 1998;34:307-314;

Sneeuw KC, Aaronson NK, Yarnold JR, et al. Cosmetic and functional outcomes of breast conserving treatment for early stage breast cancer, part 2: relationship with psychosocial functioning. Radiother Oncol, 1992;28:180-188;

Waljee JF, Hu ES, Ubel PA, et al. Effect of esthetic outcome after breastconserving surgery on psychosocial functioning and quality of life. J Clin Oncol, 2008; 28:3331-3337;

Pearl RM, Wisnicki J. Breast reconstruction following lumpectomy and irradiation. Plast Reconstr Surg, 1988; 78:83-8;

Berrino P, Campora E, Sauti P. Postquadrantectomy breast deformities: classification and techniques of surgical correction. Plast Reconstr Surg, 1987; 79:887-72;

Bulstrode NW, Shrotria S. Prediction of cosmetic outcome following conservative breast surgery using breast volume measurements. Breast, 2001;

Clough KB, Kaufman GJ, Nos C, Buccimazza I, Sarfati Im. Improving breast cancer surgery: a classification and quadrant per quadrant atlas for oncoplastic surgery. Ann Surg Oncol, 2010; 17:1378-1391;

Masetti R, Franceschini G, Magno S, Terribile D, Fabbri MC, Chiesa F, et al. Oncoplastic techniques in the conservative surgical treatment of breast cancer: an overview. Breast J, 2008;

Rainsbury rm. Surgery insight: Oncoplastic breastconserving reconstruction-indications, benefits, choices and outcomes. Nat Clin Pract Oncol, 2007;

Franceschini G, Magno S, Fabbri C, Chiesa F, Moschella F, Scafetta I, Scaldaferri A, Fragomeni S. Conservative and radical oncoplastic
approches in the surgical treatment of breast cancer. Eur Rev Med Pharmacol Sci, 2008;

Nahabedian, et al. Oncoplastic Surgery of the Breast. Saunders Elsevier, 2009. Chapter 4;

Schwartz GF, Veronesi U, Clough KB, et al. Proceedings of the consensos conference on breast c onservation, Milan, Italy. Cancer, 2008;

Franceschini, G., et al. Update on oncoplastic breast surgery. European review for medical and pharmacological sciences. 2012: 1830-1840;

Skillman J, et al. The future of breast surgery: a new subspecialty of oncoplastic breast surgeons? Breast, 2003;

Berry MG, Fitoussi AD, Curnier A, Couturaud B, et al. Oncoplastic breast surgery: a review and systematic approach. J Plast Reconstr
Aesthet Surg, 2010;

Urban CA, Lima R, Schunemann E, Spautz C, Rabinovich I, Anselmi K. Oncoplastic principles in breast conserving surgery. Breast, 2011; 20; S92-S98;

Urban CA, et al. Oncoplastic in a pre-paradigm era: a Brazilian perspective in an American problem. Plast Reconstr Surg, 2010; 128; 1839-1841;

Urban CA, et al. New classification for oncoplastic procedures in surgical practice. Breast, 2008; 17; 321-322;

Hoffmann J, Wallwiener D, et al. Classifying breast cancer surgery: a novel, complexity-based system for oncological, oncoplastic and
reconstructive procedures, and proof of principle by analysis of 1228 operations in 1188 patients. BMC Cancer, 2009; 8;9:108;

Haloua, M. H., Krekel, N. M., Winters, H. A., Rietveld, D. H., Meijer, S., Bloemers, F. W., & van den Tol, M. P. A Systematic Review of
Oncoplastic Breast-Conserving Surgery: Current Weaknesses and Future Prospects. Annals of surgery, 2013; 287(4): 809-820;

Bulstrode NW, et al. Prediction of cosmetic outcome following conservative breast surgery using breast volume measurements. Breast, 2001; 10:124.8;

Clough K, Kaufman G, Nos C, Buccimazza I, Sarfati I. Reply to Comments on: Improving Breast Cancer Surgery: A Classification and Quadrant per Quadrant Atlas for Oncoplastic Surgery. Ann Surg Oncol, 2011; 18 (Suppl 3): S287 S288;

Margenthaler JA, et al. Optimizing conservative breast surgery. J Surg Oncol, 2011; 103: 308-312;

Iwuchukwu OC, Harvey JR, Dordea M, Critchley Ac, Drew PJ. The role of oncoplastic therapeutic mammoplasty in breast cancer surgery – A review. Surg Oncol, 2012; 21: 133-141;

Baildam AD, et al. Oncoplastic surgery of the breast. Br J Surg, 2002; 89: 832-833;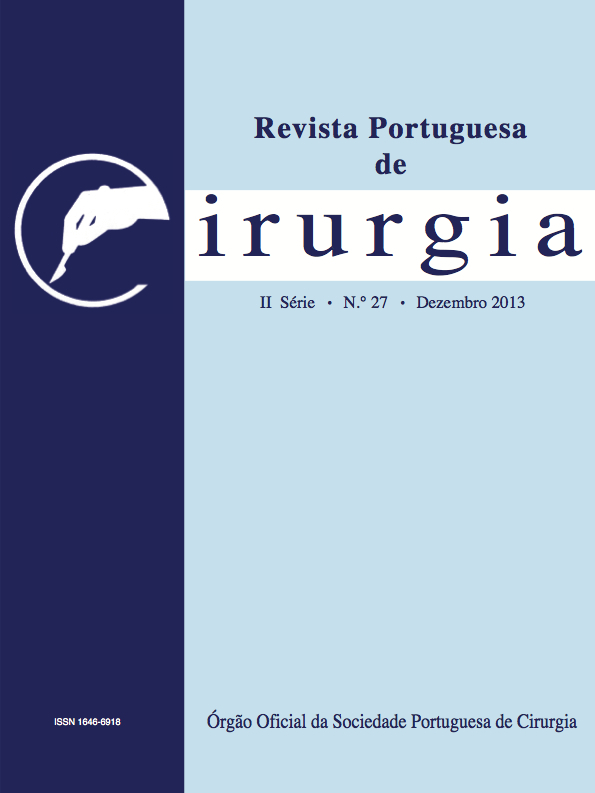 Para permitir ao editor a disseminação do trabalho do(s) autor(es) na sua máxima extensão, o(s) autor(es) deverá(ão) assinar uma Declaração de Cedência dos Direitos de Propriedade (Copyright). O acordo de transferência, (Transfer Agreement), transfere a propriedade do artigo do(s) autor(es) para a Sociedade Portuguesa de Cirurgia.
Se o artigo contiver extractos (incluindo ilustrações) de, ou for baseado no todo ou em parte em outros trabalhos com copyright (incluindo, para evitar dúvidas, material de fontes online ou de intranet), o(s) autor(es) tem(êm) de obter, dos proprietários dos respectivos copyrights, autorização escrita para reprodução desses extractos do(s) artigo(s) em todos os territórios e edições e em todos os meios de expressão e línguas. Todas os formulários de autorização devem ser fornecidos aos editores quando da entrega do artigo.