Mastectomia preventiva: ainda uma estratégia controversa?
Fátima Vaz

Serviço de Oncologia Médica e Clinica de Risco Familiar, IPOLFG,EPE, Lisboa, Portugal
Resumo
O seguimento de portadoras de mutações nos genes BRCA1/2 e a tomada de decisões sobre as suas estratégias de gestão de risco, desafiam a relação médico-doente clássicamente estabelecida. Neste contexto, há quem advogue o aconselhamento não directivo, com discussão das várias alternativas de redução de risco de cancro, nomeadamente do cancro da mama. A evidência cientifica nesta area é complexa de analizar pois há falta de estudos randomizados e os critérios de selecção são complexos. Os médicos responsáveis pelo seguimento destas doentes devem estar actualizados de forma a possibilitar uma discussão informada e orientá-las na decisão que melhor se adequa aos seus factores individuais. A prevenção cirurgica (mastectomia preventiva e/ou ooforectomia preventiva) reduz de forma significativa o risco de cancro da mama invasivo em mulheres portadoras de mutações nos genes BRCA1 and BRCA2. A mastectomia preventiva é, neste contexto, a estratégia mais eficaz na redução da incidência de cancro da mama. Apesar da sua eficácia, é um procedimento controverso, principalmente porque é considerado não terapêutico e a decisão da sua realização poder ser tomada apenas baseada em critérios clínicos. Com a generalização do rastreio BRCA1 e BRCA2 é possivel fazer uma selecção mais correcta das candidatas para mastectomia preventiva. A aceitação desta técnica cirurgica pelas mulheres em risco e pelos profissionais de saude é variável. A integração da gestão do risco hereditário de cancro da mama em unidades multidisciplinares é sugerida.
Palavras chave: cancro da mama, BRCA1, BRCA2, mastectomia profilactica. 
Downloads
Dados de Download não estão ainda disponíveis.
Referências
Roukos R H, Kappas AM, Tsianos E. Role of surgery in the prophylaxis of hereditary cancer syndromes. Ann of Surg Oncol 2002; 9: 607-609.

Hartmann LC, Schaid DJ, Woods JE, et al. Efficacy of bilateral prophylactic mastectomy in women with a family history of breast cancer. N Engl J Med. 1999; 340:77-84.

King MC, Marks JH, Mandell JB. Breast and ovarian cancer risks due to inherited mutations in BRCA1 and BRCA2. Science 2003; 302:643-646.

Ford D, Easton DF, Stratton M, et al. Genetic heterogeneity and penetrance analysis of the BRCA1 and BRCA2 genes in breast cancer families. The Breast Cancer Linkage Consortium. Am J Hum Genet 1998:62:678-89.

Dhar SU, Cooper HP, Wang T et al. Significant differences among physician specialties in management recommendations of BRCA1 mutation carriers. Breast Cancer Res Treat. 2011; 129 (1): 221-227.

Teller K, Kramer RK. Management of the asymptomatic BRCA mutation carrier. Appl Clin Genet 2010; 24: 121-31

Hartmann LC, Sellers TA, Schaid DJ, et al. Efficacy of bilateral prophylactic mastectomy in BRCA1 and BRCA2 gene mutation carriers. J Natl Cancer Inst. 2001;93: 1633–1637.

Meijers-Heijboer H, van Geel B, van Putten WL, et al. Breast cancer after prophylactic bilateral mastectomy in women with a BRCA1 or BRCA2 mutation. N Engl J Med. 2001;345(3):159–164.

Rebbeck TR, Friebel T, Lynch HT, et al. Bilateral prophylactic mastectomy reduces breast cancer risk in BRCA1 and BRCA2 mutation carriers: the PROSE Study Group. J Clin Oncol. 2004;22: 1055–1062.

Kramer JL, Velasquez IA, Chen BE, et al. Prophylactic oophorectomy reduces breast cancer penetrance during prospective, long-term folow-up of BRCA1 mutation carriers. J Clin Oncol. 2005; 23:8629-8635.

Madalinska JB, Hollenstein J, Bleiker E, et al. Quality of life effects of prophylactic salpingo-oophorectomy versus gynecologic screening among women at increased risk of hereditary ovarian cancer. J Clin Oncol. 2005; 23:6890-6898.

Julian-Reynier CM, Bouchard LJ, Evans DG, et al. Women ́s attitudes toward preventive strategies for hereditary breast or ovarian carcinoma differ from one country to another: differences among English, French, and Canadian women. Cancer. 2001; 92:959-968.

Sacchini V, Pinotti JA, Barros ACSD, et al. Nipple-Sparing Mastectomy for Breast Cancer and Risk Reduction: Oncologic or Technical Problem? J Am Coll Surg. 2006; 203: 704-714.

Botkin JR, Smith KR, Croyle RT, et al. Genetic testing for a BRCA1 mutation: prophylactic surgery and screening behavior in women 2 years post testing. Am J Med Genet A. 2003; 118A(3): 201-209.

Maarse W, Jonasse Y, Ausems MG et al. First case of invasive breast cancer following prophylactic bilateral skin sparing mastectomy in a BRCA1 mutation carrier. Eur J Surg Oncol. 2009; 35:1016-1018.

Beattie MS, Crawford B, Lin F et al. Uptake, time course, and predictors of risk-reducing surgeries in BRCA carriers. Gene Test Mol Biomarkers. 2009; 13:51-56.

Lerman C, Hughes C, Croyle RT, et al. Prophylactic surgery decisions and surveillance practices one year following BRCA1/2 testing. Prev Med 2000; 31:75-80.

Meijers-Heijboer EJ, Verhoog LC, Breekelmans CT, et al. Presymptomatic DNA testing and prophylactic surgery in families with a BRCA1 or BRCA2 mutation. Lancet 2000; 355:20115-2010.

Scheuer L, Kauff N, Robson M, et al. Outcome of preventive surgery and screening for breast and ovarian cancer in BRCA mutation carriers. J Clin Oncol. 2002; 20: 1260-1268.

Barton MB, West CN, Liu IL, et al. Complications following bilateral prophylactic mastectomy. J Natl Cancer Inst Monogr 2005; 61-66.

El-Amm J, Ghanem H, Zeck J et al. A patient with metastatic breast cancer 15 years after bilateral prophylactic mastectomy and oophorec- tomy. Clinical Breast Cancer, 2012; 12: 450-453.

Frost MH, Schaid DJ, Sellers TA, et al. Long-term satisfaction and psychological and social function following bilateral prophylactic mas- tectomy. JAMA. 2000;284:319–324.

Rimmer BK, Bluman LG. The psychosocial consequences of mammography. J Nat cancer Inst Monogr. 1997: 131-138.

Kuhl CK, Schrading S, Leutner CC, et al. Mammography, breast ultrasound, and magnetic resonance imaging for surveillance of women at high familial risk for breast cancer. J Clin Oncol. 2005; 23:8469-8476.

Fisher B, Costantino JP, Wickerham DL, et al. Tamoxifen for prevention of breast cancer: report of the National Surgical Adjuvant Breast and Bowel Project P-1 Study. J Natl Cancer Inst. 1998; 90:1371-1388.

Gronwald J, Tung N, Foulkes WD, et al. Tamoxifen and contralateral breast cancer in BRCA1 and BRCA2 carriers: An update. Int J Cancer. 2005; 118:2281-2284

King MC, Wieand S, Hale K, et al. Tamoxifen and breast cancer incidence among women with inherited mutations in BRCA1 and BRCA2: National Surgical Adjuvant Breast and Bowel Project (NSABP-P1) Breast Cancer Prevention Trial. JAMA. 2001; 286:2251-2256.

Uyei A, Peterson SK, Erlichman J, et al. Association between Clinical Characteristics and Risk-Reduction Interventions in women who underwent BRCA1 and BRCA2 testing. Cancer 2006; 107(2745-2751).

Kurian AW, Sigal BM, Plevritis SK . Survival analysis of cancer risk reduction strategies for BRCA1/2 mutation carriers. J. Clin Oncol.2010; 28(2); 222-31.

Schrag D, Kuntz KM, Garber JE, Weeks JC. Life expectancy gains from cancer prevention strategies for women with breast cancer and BRCA1 or BRCA2 mutations. JAMA 2000;283:617-24.

Evans DGR, Susnerwala I, Dawson J, et al. Risk of breast cancer in male BRCA2 carriers. J Med Genet. 2010; 47:710-711.

Guiahi M, Gabram SG, Albain KS. Clinical factors used to support prophylactic mastectomy for a male BRCA2 mutation carrier. Surgery 2006: 139: 704-706.

Freedman BC, Keto J, Smith R. Screening Mammography in Men with BRCA Mutations: Is There a Role? The Breast Journal, 2012. 18:73–75.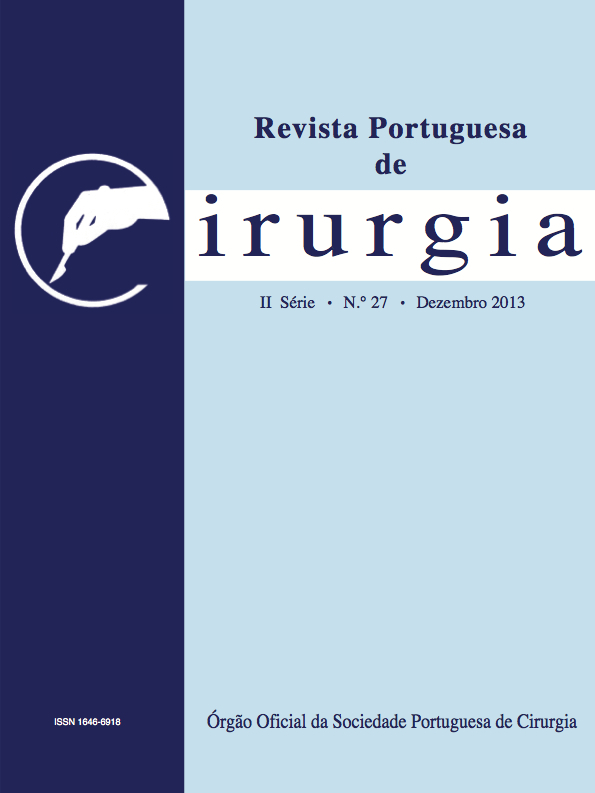 Para permitir ao editor a disseminação do trabalho do(s) autor(es) na sua máxima extensão, o(s) autor(es) deverá(ão) assinar uma Declaração de Cedência dos Direitos de Propriedade (Copyright). O acordo de transferência, (Transfer Agreement), transfere a propriedade do artigo do(s) autor(es) para a Sociedade Portuguesa de Cirurgia.
Se o artigo contiver extractos (incluindo ilustrações) de, ou for baseado no todo ou em parte em outros trabalhos com copyright (incluindo, para evitar dúvidas, material de fontes online ou de intranet), o(s) autor(es) tem(êm) de obter, dos proprietários dos respectivos copyrights, autorização escrita para reprodução desses extractos do(s) artigo(s) em todos os territórios e edições e em todos os meios de expressão e línguas. Todas os formulários de autorização devem ser fornecidos aos editores quando da entrega do artigo.