Total Gastrectomy for locally advanced Cancer: The total Laparoscopic Approach
J.-S. Azagra

Unité des Maladies de l'Appareil Digestif et endocrine (UMADe), Centre Hospitalier de Luxembourg

M. Goergen

Unité des Maladies de l'Appareil Digestif et endocrine (UMADe), Centre Hospitalier de Luxembourg

L. Arru

Unité des Maladies de l'Appareil Digestif et endocrine (UMADe), Centre Hospitalier de Luxembourg

V. De Blasi

Unité des Maladies de l'Appareil Digestif et endocrine (UMADe), Centre Hospitalier de Luxembourg

O. Facy

Unité des Maladies de l'Appareil Digestif et endocrine (UMADe), Centre Hospitalier de Luxembourg

G. Orlando

Unité des Maladies de l'Appareil Digestif et endocrine (UMADe), Centre Hospitalier de Luxembourg

A. Sanchez-Ramos

Unité des Maladies de l'Appareil Digestif et endocrine (UMADe), Centre Hospitalier de Luxembourg

A. Legrand

Unité des Maladies de l'Appareil Digestif et endocrine (UMADe), Centre Hospitalier de Luxembourg

V. Poulin

Unité des Maladies de l'Appareil Digestif et endocrine (UMADe), Centre Hospitalier de Luxembourg
Resumo
Total gastrectomy is the treatment of choice for adenocarcinoma of the upper and middle third of the stomach resected with curative intent. The laparoscopic approach allows satisfactory exploration of the peritoneal cavity and optimizes staging in borderline T3 or T4 tumours in patients affected by locally advanced tumours or intraperitoneal carcinomatosis. Laparoscopy can eliminate unnecessary laparotomies in 10 % of patients affected by these conditions with formal contraindications for resection [1] . Complete resection of the stomach associated with D2 lymph node dissection is also performed using a currently well-established technique [2, 3] . The specificity of laparoscopic gastric resection for cancer is that the stomach and the great omentum are withdrawn separately.
Reconstruction of the digestive tract is more complex, and requires a variety of techniques (supra-umbilical mini-laparotomy, Orvil® technique, enlarging a port-site for passage of a circular stapler, mechanical side to side anastomosis, etc), but none of these has become the gold standard [4-7] . This explains the difficulties encountered in promoting the widespread use of minimally invasive resection in western countries. Scientific societies insist on the need for prospective studies to establish the place of laparoscopy for gastric cancer (prophylactic gastrectomy for CDH-1 related gastric cancer, < T3 Tumours, palliative gastrectomy) [4] . Here, we present our technique for total resection of the stomach and D2 lymph node dissection, which allows the manual creation of a feasible, safe, tension-free and effective esojejunal anastomosis. It can be performed by any surgeon familiar with laparoscopic surgery and the principles of oncologic resection. The cost is also relatively low because neither a circular stapler nor other special equipment is required. Finally, the incision for extraction of the specimen can be placed in any area of the abdomen (usually through a supra-pubic incision in our practice).
Keywords: Gastric cancer, laparoscopy, total gastrectomy, lymphadenectomy, Intracorporeal anastomosis.
Downloads
Dados de Download não estão ainda disponíveis.
Referências
BURkE EC, KARPEH MS, CONLON KC, BRENNAN MF. : Laparoscopy in the management of gastric adenocarcinoma. : Ann. Surg. 1997 ; 225 : 262-7.

AZAGRA JS, IBAÑEZ-AGUIRRE JF, GOERGEN M ET AL. : Long-term results of laparoscopic extended surgery in advanced gastric cancer : a series of
101 patients. : Hepatogastroenterology 2006 ; 53 : 304-8.

HUANG JL, WEI HB, ZHENG ZH ET AL. : Laparoscopy-assisted D2 radical distal gastrectomy for advanced gastric cancer. : Dig. Surg. 2010 ; 27 : 291-6.

STRONG VE, DEVAUD N, KARPEH M. : The role of laparoscopy for gastric surgery in the west. review article. : Gastric Cancer 2009 ; 12 : 127-31.

NUNOBE S, HIKI N, TANIMURA S ET AL. : Three-step esophagojejunal anastomosis with atraumatic anvil insertion technique after laparoscopic total
gastrectomy. : J. Gastrointest. Surg. 2011 ; 15 : 1520-5.

BRACALE U, MARZANO E, NASTRO P, BARONE M, CUCCURULLO D, CUTINI G, CORCIONE F, PIGNATA G. : Side-to-side esophagojejunostomy
during totally laparoscopic total gastrectomy for malignant disease : a multicenter study. : Surg. Endosc. 2010 ; 24 : 2475-9.

OMORI T, OYAMA T, MIZUTANI S, TORI M, NAKAJIMA K, AKAMATSU H, NAKAHARA M, NISHIDA T. : A simple and safe technique for
esophagojejunostomy using the hemidouble stapling technique in laparoscopy-assisted total gastrectomy. : Am. J. Surg. 2009 ; 197 : 13-7.

YONEMURA R. : Controversies in surgical treatment of gastric cancer. : Gan To Kagaku Ryoho 2003 ; 30 : 1238-48.

FACY O, ARRU L, AZAGRA JS. : Intestinal anastomosis after laparoscopic total gastrectomy. : Journal of Visceral Surgery 2012 ;149:e179-e184.

YANG Z, AHENG Q, WANG Z. : Meta-analysis of the need for nasogastric or nasojejunal decompression after gastrectomy for gastric cancer. : Br. J. Surg.
2008 ; 95 : 809-16.

CAI J, Wei D, GAO CF, ZHANG CS, ZHANG H, ZHAO T. : A Prospective randomized Study Comparing Open versus Laparoscopy-Assisted D2 radical
gastrectomy in Advanced gastric Cancer. : Dig. Surg. 2011 ; 28 : 331-7.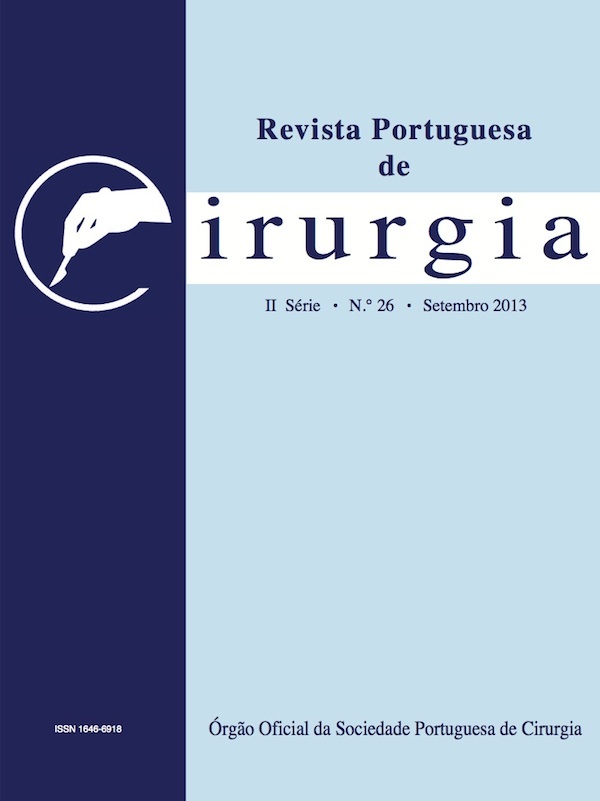 Para permitir ao editor a disseminação do trabalho do(s) autor(es) na sua máxima extensão, o(s) autor(es) deverá(ão) assinar uma Declaração de Cedência dos Direitos de Propriedade (Copyright). O acordo de transferência, (Transfer Agreement), transfere a propriedade do artigo do(s) autor(es) para a Sociedade Portuguesa de Cirurgia.
Se o artigo contiver extractos (incluindo ilustrações) de, ou for baseado no todo ou em parte em outros trabalhos com copyright (incluindo, para evitar dúvidas, material de fontes online ou de intranet), o(s) autor(es) tem(êm) de obter, dos proprietários dos respectivos copyrights, autorização escrita para reprodução desses extractos do(s) artigo(s) em todos os territórios e edições e em todos os meios de expressão e línguas. Todas os formulários de autorização devem ser fornecidos aos editores quando da entrega do artigo.