Uma visão global da Cirurgia Geral em 2013
Júlio Soares Leite

Presidente da Sociedade Portuguesa de Cirurgia
Abstract
.
Downloads
Download data is not yet available.
References
Ritchie WP Jr. Basic certification in surgery by the American Board of Surgery (ABS): what does it mean? Does it have value? Is it relevant? A personal opinion. Ann Surg. 2004;239:133-9.

C.D. Johnson. Specialization in general surgery. Br J Surg 1991;78:259-60.

Pellegrini CA, Warshaw AL, Debas HT. Residency training in surgery in the 21st century: a new paradigm. Surgery. 2004;136:953-65.

Ihse I, Haglund U. The Swedish 40-hours workweek:how does it affect surgical care? Surgery 2003;134:17-8.

Dikken J.L., van Sandick, Album W.H. et al. Differences in outcomes of oesophageal and gastric cancer surgery across Europe. Br J Surg
2013;100:83-94

Debas HT, Bass BL, Brennan MF et al. American Surgical Association Blue Ribbon Committee Report on Surgical Education: 2004. Ann Surg., 241: 1-9, 2005.

Fernández-Cruz L. General surgery as education, not specialization. Ann Surg., 240:932-938, 2004.

Wouters MM, Janse-Landheer M.A., van de Velde C.H. The quality of cancer iniciatives in the Netherlands. European J Cancer Surgery. 2010;36:S3-13.

Burns E.M., Bottle A., Aylin P et al. Volume analysis of outcome following restorative proctocolectomy. Br J Surg 2011;98 :408-17.

Kennedy E.D., Rothwell D.W., Cohen Z. et al. Increased experience and surgical technique lead to improved outcome after ileal pouch-anal anatomosis: a population-based study. Dis Colon Rectum 2006 ;49 :958-65.

Archampong D., Borowski D., Wille-Jorgensen P. et al. Workload and surgeon's speciality for outcome after colorectal cancer surgery (review). Cochrane Database Syst Rev. 2012; 3:1-134.

Leite J.S. Controlo de qualidade em cirurgia colo-rectal. Revista Portuguesa de Cirurgia. 2007:2:15-22.

Charnley R.M., Paterson-Brown. Surgeon volumes in oesophagogastric and hepatopancreaticobiliary surgery. Br J Surg 2011;98:891-3.

Office for National Statistics. Cancer Registration Statistics 2008.http://www.statistics.gov.uk/statabase.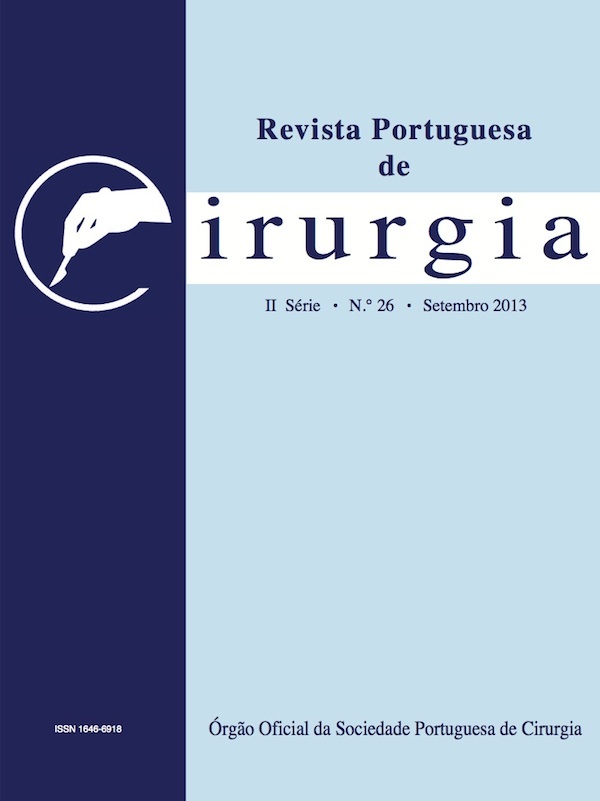 Section
PORTUGUESE SOCIETY OF SURGERY (SPC) PAGE